Valentine's Day is just around the corner and Lush Cosmetics just blessed us with the best gift ever–A Giant Rose Bombshell Bath Bomb (obviously, Lush takes "go big or go home" very seriously)! As if the original Rose Bombshell wasn't already one of the bestselling and best-smelling bath bombs, Lush dropped one of our faves just in time to spice things up for Valentine's Day. This isn't the only exciting release for the brand; the Giant Rose Bombshell Bath will be pre-released along with a beautiful Valentine's Day line in its U.K. stores! According to Hello Giggles, Lush's Valentine's Day collection will be available on Jan. 19, so mark your calendars! Here's a sneak preview of some of the items in the collection if you just can't wait:
Lush Giant Rose Bombshell Bath Bomb (£14.95/$20.22 each)
With yellow rose petals, rose oil, and geranium and lemon oils, the Giant Rose Bombshell Bath Bomb is balancing, soothing, and restorative. And it smells amazing, of course!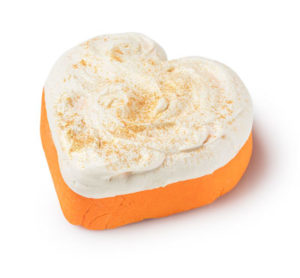 Lush Heart Of Enlightened Expectation Bubble Bar Melt (£4.50/$6.09 each)
Get romantic with Lush's Heart Of Enlightened Expectation Bubble Bar Melt! It contains floral and seductive jasmine, softening and conditioning shea butter, geranium, ylang-ylang, and bergamot oils for the most relaxing bubble bath you'll ever experience.
Lush Kiss Me Quick Wash Card (£2.00/$2.70 each)
If you've got big traveling plans for Valentine's Day, the Kiss Me Quick Wash Card is perfect for you! Don't let the size fool you–this thin-as-paper wash card forms a rich lather with spicy and stimulating clove bud oil and cleansing and exfoliating fresh apple pulp.
Lush Melt My Heart Massage Bar (£5.95/$8.05 each)
Massage bars are literally my favorite products from Lush because they save me so much time moisturizing after a shower. Treat your skin to soothing dried rose petals, moisturizing fair trade cocoa butter, and conditioning fair trade shea butter. You can say goodbye to dry skin with this ultra-moisturizing massage bar!
Lush Tisty Tosty Bath Bomb (£3.50/4.73 each)
How gorgeous is this colorful floral bath bomb? It contains seven rose buds, revitalizing lemon and geranium oils, and orris root powder.
"This bath bomb is amazing! I felt a huge smile meet my lips as I felt the bomb slowly evaporate my hands. It felt practically magical to lie in the bubbly water, with the gorgeous rosebuds floating among the water, and the smells, which were like sherbet and peppermint together, slowly evaporating into the remainder of the bathroom. I would recommend this to anyone who would love a calming, cleansing bath." – daisykaye018_6383382
Whether you're thinking of things to gift your special Valentine, or just looking to have a romantic spa evening alone, Lush's Valentines Day has over 20 sweet pre-released items to choose from. Oh, and did we mention that all of these Lush Valentine's Day products are 100% vegan and cruelty? Lush also uses organic and fair trade ingredients when possible! All the more reason to fall in love with these natural skincare and beauty products!
If you're obsessed with Lush's bath bombs, check out the best-smelling and bestselling ones at SheFinds.com!
[Photos: Lush Cosmetics]