If you can't figure out what to buy your besties for the holidays, or you're one of those people who never knows what to put in someone's stocking, MAC might be able to help. Makeup is always a quick and easy holiday gift, since you can almost garuntee that it'll be appreciated and put to good use. Almost every girl wears makeup, so why not, right?
While MAC products are always popular during the holiday season (and year round), this year the brand decided to step it up by collabing with fashion designer, Prabal Gurung. We already know that this pair will make a great team, since they've worked together on the runway, so we can't wait to get a peek at their new products.
The MAC x Prabal Gurung collection will have 14 pieces that range between $20-70, which is a little pricey for a typical MAC collection, but these price points make it that much easier to give as a gift, since you won't have to hunt for that mysterious "other thing to go with it."
Unfortunately, we haven't seen any of the products, yet, but we're sure they'll be just as good as the looks we've seen from this team on the runway. The collection will officially launch on November 26th, just in time for the holiday season, but before then, be sure to come back to our site for more info and updates.
While you wait for MAC x Prabal Gurung, shop for other MAC products here.
UPDATE: Ladies, we have our first look at this collab. Prabal Gurung just uploaded this photo to Instagram with the caption "Note the lip. @mokichoi of @glamourmag for a Prabal Gurung makeover at the @maccosmetics flagship in Paris. Prabal Gurung x MAC November 2014 #prabalgurung #MACprabal." Looks like bright red lipstick is one of the 14 items in this collection! Now just let us get a sneak peek of the rest…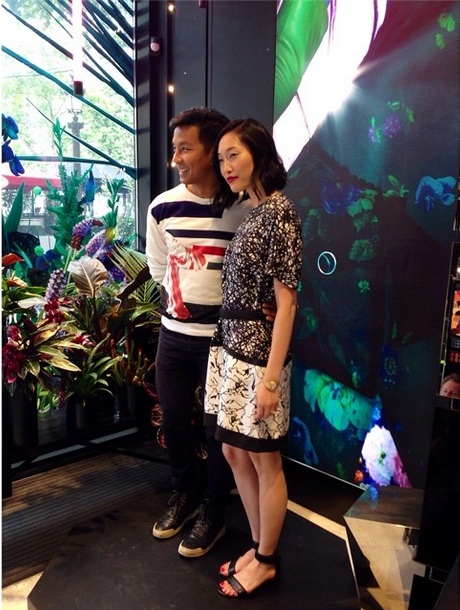 And don't forget to check out: beauty products for summer, white nail polish, and hair products that make your hair grow
[Photos: Splash News, Instagram]