As you know, we love the fashion of Mad Men. So we're excited for fall, when Mad Men's costume designer, Janie Bryant will reveal her secrets to styling in a new style book.   Co-written by Monica Corcoran, the aim is to help you tap into your "inner leading lady."
Until then, we have our own spin on nabbing the awesome Mad Men retro style starring sheath dresses that are slightly updated to reflect our time: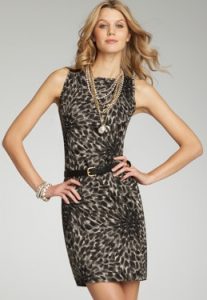 If I had the guts of Joan, I would totally wear a bold red dress to the office. But since I don't, this slightly less audacious, but just as sexy and modern Silk Leopard Sheath Dress ($171) will suffice.
To evoke the thoroughly modest Peggy through modern eyes, the tailored, cap sleeve Eliza J Plaid Dress with a flower embellishment ($99) has you covered.
And finally, what would this homage be without looking to Mrs. Betty Draper. By far the chicest of the bunch, her LBD looks forward to 2010 where asymmetrical dresses, like this Maggy London Asymmetrical Stretch Satin Sheath Dress ($77) are the rage.
For more retro style, see all of our Mad Men favorites and relive the show's best fashion moments in sheath dresses, and little black dresses and a great party dress that would make Betty Draper jealous.