While celebrating her 52nd birthday this weekend, Madonna stepped out in London with this crucifix clutch and matching cross necklace. Guess the devout Kabbalah follower had a change of heart and was feeling a little love for Jesus (and Dolce & Gabbana, the makers of this ruched, gray satin dress).
Turns out the bag is Our Lord and Saviour's Olympus Teneo clutch (coming this fall). This black python version will retail  for $3,265 while the crocodile will go for $8,695. Now that will make you use the Lord's name in vain.
If you're feeling less sacrilegious, and looking for more non-denominational accessories, check out these sexy black clutches:
Be edgy – but not quite "Christ on a cross" edgy – with this cool, studded Diane von Furstenberg Philomena clutch ($425). Make it girly with a patterned top, or edgy with skinny black jeans.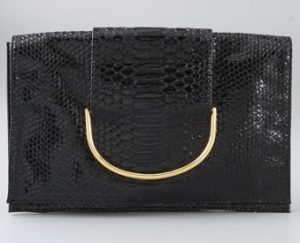 Hurry up – there are only 2 of these Zambos & Siega Python Peggy clutch ($132). You will love the python material (just like Madge's) and gold detail of this sleek bag.
The imitation notebook detail of this Alexander Wang Amber Notebook clutch ($625) makes it a truly one-of-a-kind piece.
Check out more of our celebrity style and get the look posts, then check out our guides to the best bags under $250, evening bags and stylish laptop cases.