Moms have a pretty tough job–diaper changer, maid, personal shopper, taxi driver, nurse, chef, the list goes on. And yet, they do it all (free of charge!) simply for the love of being a mom. That's why it's so important to make sure every Mother's Day is special, memory-filled and lets mom know just how much you love and appreciate her.
So to help ensure no mom is disappointed this year, we teamed up with four of our favorite mom bloggers to give you the inside scoop on what moms are really looking for on Mother's Day. First up, we sat down with Wendy Bradford, a busy N.Y.C. mom of three and writer at mamaonetothree.com.
SF: Tell us a little about your blog?

WB: I write at Mama One to Three about having three kids in the city, and about my own fears and frailties, with great honesty and as much humor as I can muster. I believe the truth about is more beautiful than perfection.
SF: What's your mommy style?

WB: As well as being an urban mommy at heart forever–I will never willingly leave the city–I am also a very honest mommy. Being a mother has shown me I can't hide my truths or my vulnerabilities; being a writer has given me a pathway to explore the complexities of the past, the hard work of the present, and my desire for a loving and stable future for my family.
SF: What's your dream Mother's day?

WB: A dream day would be spending a day with the kids without any whining or fighting or complaining from anyone, including myself!
SF: What's your fondest Mother's Day memory?

WB: A couple of years ago, the kids and my husband went out to the market for ingredients for a very special breakfast. They came back with flowers, juice, yogurt and granola "that makes you poop."
SF: So what's on your Mother's Day wish list?

WB: No granola.
Well that's easy! This Kardashian Kollection Women's Textured Fit & Flare Dress from Sears is far from granola, but perfect for a stylish city mom. Pair it with flat sandals for a spring walk with the kids or heels for a date night with dad.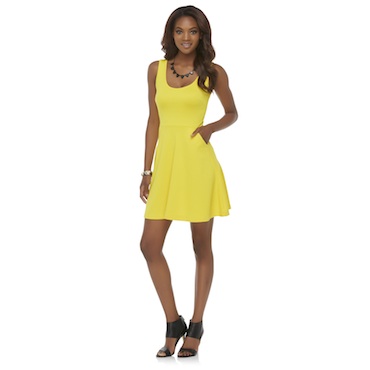 Kardashian Kollection Women's Textured Fit & Flare Dress
With the best gifts and endless aisles of things she's sure to love, Sears makes it easy to "Love Mom" this Mother's Day at sears.com. Shop Your Way members save even more and can find custom ecoupons just for them at shopyourway.com. Plus, everyone can save an additional 5-25% on items at Sears' Family & Friends event this Sunday, May 4, 2014 from 6-9 p.m.