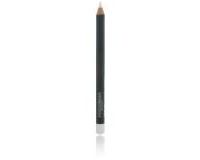 We all want to  jumpstart 2010 with a bang, and one way to do so is with a fresh new look.  But for most of us, taking a big risk at the hair salon, or completely revamping our wardrobe is out of the question.  A cheap and easy way to refresh your look is by experimenting with bold makeup.  This winter, try one of the hottest celebrity trends, white eyeliner.
Eyes may be the windows to the soul, but they are also the answer to achieving an effortless and sexy evening look.  More exciting than your typical black or brown liner, a white eye pencil brightens your eyes and makes them really pop.  To test this trend, we suggest Napoleon Perdis' White Eye Pencil.
To start, line your eyes with a white pencil just as you would with a brown or black one, on the top and bottom lids.  Make the line about medium thickness, unless you want all out drama with a heavily drawn line.  Add a line of black pencil eyeliner, like Laura Mercier's Black Extreme, around the white line, to illuminate your eyes with a frame of contrasting white and black.  Add the black line around the outside of the white and slightly smudge the two together for a smooth flow around the eyes.  Add a touch of Babor's shimmery white eyeshadow to your top lid, and finish off the look with thickly applied Diorshow Iconic Extreme waterproof black mascara.  To get an even more mod Twiggy-inspired look, carefully excenttuate each bottom lash with black mascara.
Et voila!  In less than 10 minutes you have updated your entire look and are ready take on the new year with a, (at least for one night), new you.  Keep in mind this look is best suited for the evening and could illicit some strange glances if worn in the office.
Find even more celebrity trends with our guides to celebrity fashion.  Finish off this look with a cocktail dress from our guide to cocktail party dresses.