When we first announced that Marc Jacobs would be releasing yet another perfume — and that it would be called DOT — we were intrigued. Man, that guy sure loves polka dots. Now, thanks to WWD, we know the scent is inspired by ladybugs. And no, not your favorite Jonathan Brandis movie from 1992 — the actual bug.
According to the paper, DOT is "charming, spirited, and energetic." Jacobs explains the perfumes's butterfly-ladybug look to WWD:
A dot is timeless and a pattern I always love, and round shapes are always beautiful. I liked the idea of these hybrid butterfly-ladybugs, which suggest a sort of free spirit and femininity and playfulness. And, of course, ladybugs mean good luck.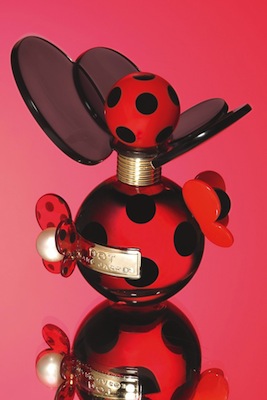 DOT by Marc Jacobs
As we reported before, the smell of this anticipated perfume (available in July) consist of "juicy" and "lush" notes, including red berries, dragon fruit, honeysuckle, coconut water, vanilla, and musk, among others. Jacobs gets more metaphorical with WWD, "It's almost like a butterfly or a ladybug landing on a leaf." Ah, yes, exactly! We tried to YouTube this type of scene but sadly, nothing came up.
For those wondering which model was chosen to channel Dot, the lucky lady is Australia's own doe-eyed Codie Young, who was discovered in her  hometown in 2010—and walked for Marc Jacobs that following Fashion Week in February 2011. The Ozzie joins the rest of the Marc Jacobs fragrance spokesmodel clique, including Sophie Srej, Frida Gustavsson, Hannah Holman, and Dakota Fanning.
It looks like the beauty (lady)bug bit Jacobs, since an anticipated collaboration with major retailer Sephora in the works. Will we be seeing more of the lovable and talented designer in our makeup bags? We certainly think so, and we're not complaining one bit.
Read up on more fashion and beauty news: Thakoon x Nars, Target's new collaboration, and CK's Francisco Costa for Macy's.