I'll admit that I was a little late to the smartwatch party; I didn't start tracking my steps until last year (gasp!). I found a smartwatch that I love, but there was one problem: the leather band I loved so much didn't stand up to my lifestyle as a working mom. Between washing dishes, helping my daughter with art projects and getting things spilled on me, it wasn't long before that beautiful tan leather watch band was gross and stained.

I was initially resistant to getting a smartwatch with a rubber-y feeling black band, but when reality set in, I accepted that this was really the way to go. But an ugly smartwatch? No way, not me! The band might not be leather, but any watch that I'm wearing on a daily basis needs to have serious style.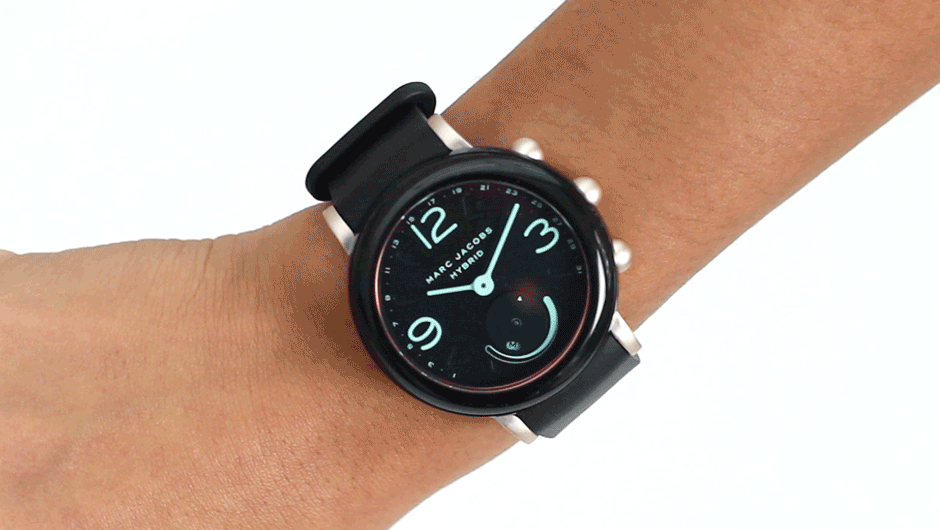 Enter the brand new Marc Jacobs Riley Smartwatch. Yes, it has a matte black rubber wrist strap, but the rest of the watch is so insanely cool that I don't even mind that. First, there's the face which has this super cool iridescent like sheen (see above!). There's also the goldtone hardware details that definitely elevate the look and make this watch totally "fashion" office-appropriate.
Of course, the beauty of any smartwatch is the tech and this one has it all. Not only does it track my activity in an easy-to-navigate app, but it can also control my music and send me important notifications. Syncing the watch and accessing all my info is super easy. I just downloaded the Marc Jacobs Connected app from the App store and followed the setup instructions. I thought I would be most excited about tracking my steps, but I've actually found that I'm more in love with the sleep tracker; this is a feature my old smartwatch didn't have. I was initially resistant to the idea of sleeping with the watch on, but now I don't go to bed without it. I've found that monitoring how many hours of actual restful sleep I've had totally helps me prepare for the day.
Add to this that I've worn this watch for almost a week straight and it looks just as beautiful and new as it did when I first took it out of the box.
My lesson in all of this? Don't judge a watch by its band!
SHOP THE MARC JACOBS SMARTWATCH NOW
[Photo: Marc Jacobs]
SHEfinds receives commissions for purchases made through the links in this post.