Butter London makes some of our favorite nail polishes (including the infamous "No More Waity, Katie" polish of 2011's K-Middleton craze). But their on-trend colors have been reserved for nails — until now. The UK brand has released a line of lip glosses (cheekily called "Lippy") made in the same fun colors as their polishes.
Available at Ulta for $17, Lippy comes in five of Butter's most popular polish colors: Yummy Mummy, Teddy Girl, Primrose Hill Picnic, Snog (below), and the hilariously-titled Trout Pout.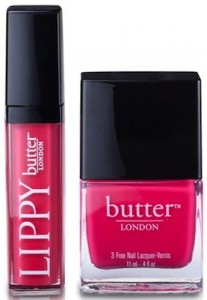 Lippy, $17 and polish, $14, both in Snog
Shop all of the colors in the slideshow above, and don't forget to check out our guides to the best lip balms, eyeshadows, and eyeliners.