If you missed Matthew Williamson's psychedelic prints the first time around, not to worry. He's all about second chances. While Williamson was putting together a retrospective book on his 12 years of designing, he was inspired to revisit the prints of his past and create a capsule line exclusively for Net-a-Porter. Note: While the pieces are less expensive than his regular line, the prices are still no Target collaboration: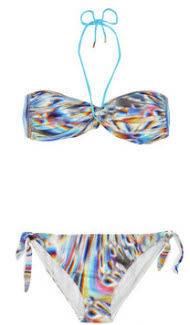 The most price-friendly of them all, this Matthew Williamson rainbow whirlpool bikini ($300) nails Williamson's signature neon rainbow.
Have you ever seen a printed sweater look so pretty? This Matthew Williamson wrap merino cardigan ($595) can be worn a million ways.
This Matthew Williamson satin jersey draped dress ($1195) may break the bank, but it'll never be one of your fashion regrets, that's for sure.
Check out all of our fashion news, plus see more of our favorite dresses, pumps, and jackets for fall. Get yourself a great deal with our sales and deals and best find of the day posts.
Follow the author of this post on Twitter @shefindseileen.