Maya Brenner is known for her simple, yet elegant jewelry worn by a ton of celebs. Girlfriend started her business inside her NYC apartment and now look at her! She's a mom and jeweler who sells to people like Reese Witherspoon, January Jones, Emma Roberts, Julianne Hough and so many more.
Now if you don't know who we're talking about yet, Maya Brenner is the genius behind those very simple state necklaces and the asymmetrical letter necklaces. Yeah, that's who Brenner is. And now, you can find her jewelry at J.Crew!
You can shop the Maya Brenner 14K Gold Asymmetrical Letter Necklace and the Maya Brenner Letter Earrings in the letters J, S, M, A, C, K and L, which are the letters she sells the most. Brenner's jewelry is the perfect every day piece to wear, not to mention a great way to layer your necklaces!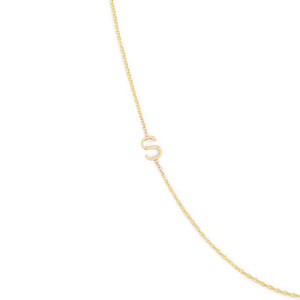 Maya Brenner 14K Gold Asymmetrical Letter Necklace ($240)

Maya Brenner Letter Earrings ($98)
Be sure to know which food is good for your skin, why Zella workout leggings are amazing and light sweaters that are good for summer and fall.
[Photo: Splash News]