If there's one thing we live for here at SHEfinds, it's amazing, inspiring girl bosses. And who fits the bill better than the one and only Kendra Scott? The cult jewelry designer consistently cranks out collection after collection of must-own accessories and we just couldn't pass up the opportunity to have her share her story with all of you. To celebrate the launch of her new summer line, we're thrilled to share this exclusive Q&A with Kendra herself.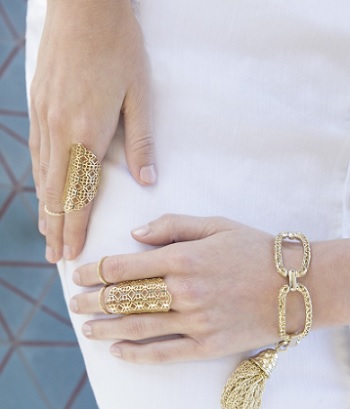 BOONE RING IN GOLD ($75)
MIA BRACELET IN GOLD ($125)
SHEfinds: You're a bona fide mogul – how did you build such a successful business?
Kendra Scott: I attribute much of the success to our business foundation–three core pillars: Family, Fashion and Philanthropy, which create a solid work culture that is different in the industry. It was just as important for me to tuck my kids in at night as it was to become a leader in the business world and I knew many others I worked with that felt the same way. From a design standpoint at Kendra Scott we evolve with the world of fashion and provide our customers with high value product at an accessible price. And most importantly, I wanted to "do good" and make a positive difference in the world around me through my business. Since Kendra Scott began in 2002, we have made a name for ourselves through our unique company culture, our powerful design principles, and our dedication to giving back and supporting local communities.

MILLER NECKLACE IN ANTIQUE SILVER ($225)
SF: Talk to us about trends: what jewelry will be huge this summer?
KS: One of the many trends I'm in love with this season is the choker. In our Summer 2016 Collection we debuted our first-ever choker, the Scottie, featuring 360 degree pave detailing and a sliding closure that lets you wear this necklace at any length. I love it styled with a Breton stripe or a classic sundress. It's the perfect summer accessory!
SF: Where do you find inspiration for your collections?
KS: I find inspiration all around me, from my travels and my favorite artwork to the Kendra Scott girl herself. I think about her signature style and the unique pieces and custom stone cuts she will love. I always design for her, and work with my fantastic design team to bring something new and exciting to her season after season.
HALSEY EAR JACKETS IN ROSE GOLD ($75)
SF: What's the one piece of jewelry you think a woman should always wear?
KS: No woman's wardrobe is complete without a show-stopping statement accessory. Whether it's a bold, colorful necklace or a great pair of earrings, she needs that one quality piece that can take her look to the next level.
SF: Is there a piece of jewelry you never leave home without?
KS: Lately I'm loving the Sayers Earrings from our Summer 2016 Collection. It's a bold, hand crafted sun shape silhouette inspired by my trip to the French Riviera and the sun's reflection on the water. The baroque pearl center adds a classic feel to an otherwise modern design.  I wear them with everything and lately they have been the piece of jewelry most people stop me about!
GWENDOLYN STATEMENT NECKLACE IN CRUSHED IVORY PEARL ($295)
SF: If you weren't a jewelry designer, what would you be doing?
KS: Designing jewelry is my dream job, and I still wake up pinching myself that I get to spend every day doing something I love. But if I could be doing anything else, I would be traveling the world with my family. I love to travel, whether it's to another city or another country. I love to seek out new places to adventure, and take my boys to places they've never been. I feel the most inspired when I immerse myself in a new culture, surrounded by new people, and dynamic scenery and architecture.
ROGAN STUD EARRINGS IN GOLD ($80)
Don't miss how to find an earring back in the floor and how often you should clean your tweezers.
SheFinds receives commissions for purchases made through the links in this post.