When it comes to bathing suits and bikinis, L*Space is killing it. They're one of those brands everyone else knocks off thanks to their insanely cult following that includes celebs, style bloggers and real girls like you and me.
But just who is responsible for this amazing brand we all know and love? That would be Monica Wise, a Florida girl who was ahead of her time when she decided to launch L*Space. Get to know her below.
SHEfinds: Tell us a little about yourself? Did you always want to be a fashion designer?

Monica Wise: I was born in Ohio, and moved to Florida at a young age to escape the cold winters. I married young, and when my ex and I realized it wasn't working out, I devoted myself to growing this collection. It was never something I thought I would be doing–designing swimwear–but sort of fell into it because I had an opportunity to do it and just went with it. I started out small–selling bikinis from the back of my car and eventually, moved to New York to take it a bit more seriously. After a few years there, I realized that New York wasn't for me so I left for California and haven't looked back.
SF: When you started the brand, did you have any idea it would become so popular?

MW: We started off small in the surf industry. Then, we were sort of ahead of our time because the industry was dominated by brands like Roxy and Billabong, and then here comes this little fashion swim brand that offers young girls more contemporary fits and styles, soft fabrics, and fabulous prints amongst an industry dominated by missy prints and scratchy lining. We were also one of the first brands to actually offer selling a bikini as separates instead of as a set so that really set us apart from everyone else. We had no idea that the brand would grow at the time, but looking back, it makes sense that it has become so popular with our fashion girls. They understand that you may be paying a lot for a bikini, but this bikini is going to last you season after season and become timeless. They understand fit, construction, and feel of the suit and are willing to pay premium prices for it.
SF: What's the best-selling L*Space swimsuit?

MW: Our best-selling bikini top is called our Chloe Wrap top which is now being duplicated in most every swim brand and rightfully so. It's a great top because it doesn't pull on the neck and has just the right lift and push that you'd want from a swimsuit. I would also say that our Jaime top is also up there, it is a pull-on style top with crisscross detail and adjustable straps that go over the shoulders. Most of the girls in the office wear it as a bra and I think because we are seeing swim being worn year round, as bralettes etc. this top is really making waves.
SF: L*Space is expanding into shoes and apparel–what inspired this?

MW: I always knew I wanted to be a part of a lifestyle brand and entering into shoes/sandals and apparel was a natural progression. Of course, anyone who frequents the beach wears sandals and clothes to get there, which is why we started with these two categories. I wanted to make L*SPACE part of our consumers everyday look no matter what the season. We are inspired by the shoreline, and traveling so each piece is easily packable.
SF: What are the three items you can't vacation without?

MW: Most of my vacations center around going someplace warm–so if we are talking about everyday items it would be sunscreen, a hat, and some leave-in conditioner.
SF: If you weren't running L*Space, what do you think you'd be doing?

MW: My husband and I are in the middle of a remodel and I've always loved the design aspect of projects like this, so if I wasn't running L*SPACE, I would probably be an interior designer. Although my husband and I love to travel, so my other option would be just traveling the world with him.
And now, a quick peek at L*Space's new resortwear and sandals, which are available to shop at lspace.com.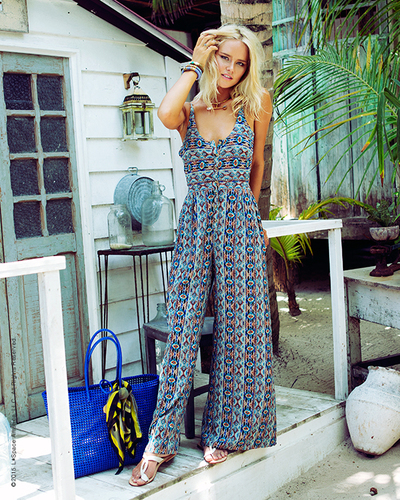 Be sure to check out this miracle hair serum and our favorite ponchos.
[Photo: L*Space]