When you're the bride, the pressure to create the perfect wedding outfit–aka the best outfit ever–is extremely  high. (Have you seen "Say Yes To The Dress"? Talk about drama!) Not to mention the fact that you've often got to approve the looks your bridesmaids and mother are going to wear, too. Succeed, and the camera loves you. Fail, and there will be incriminating photographic evidence forever. If you suffer from "Outfit Paralysis," like millions of brides before you, we've finally found the cure. Net-A-Porter's Outfit Creator – think of it as the high fashion equivalent of a Magic 8 ball-aka your secret weapon to getting styling advice from Net-A-Porter stylists, for free.
Here's how it works
Go to Net-a-Porter's Outfit Creator, hit "spin", and instantly, get options. Forget heading to the department store–this is for the no-fuss bride with money to burn. Click "hold" to save what you like, and then keep spinning until you've found the perfect dress-shoes-accessories combo. Once you're finished, click hold on all items, and it'll instantly tally your total for you. Buy 'em all at once or pick and choose your faves. Here goes:

1. The Ethereal Bride: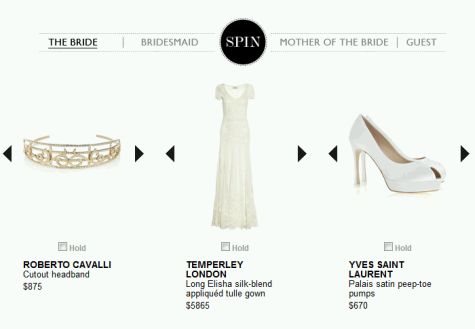 The verdict: Temperley London Elisha gown ($5865) with a Roberto Cavalli cutout headband ($875) and gorgeous Yves Saint Laurent Palais peep-toe pumps ($670)! Total cost: $7410.
Fun, right? Let's do it again.
2. The Glam Bride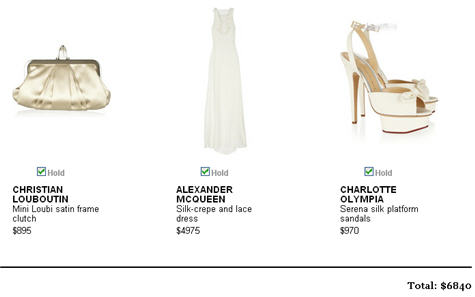 This bridal ensemble pairs the Alexander McQueen silk-crepe and lace dress ($4975) with our favorite Charlotte Olympia Serena silk platform sandals ($970), and then adds a Christian Louboutin mini Loubi satin frame clutch ($895). Total cost: $6840.
3. The Vintage Bride: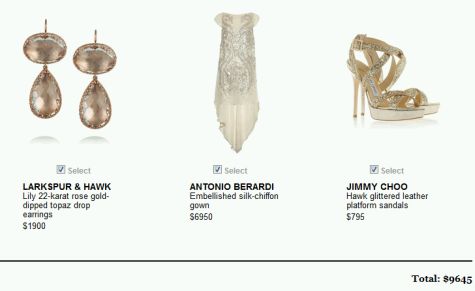 The verdict: Antonio Berardi embellished silk-chiffon gown ($6950), Jimmy Choo Hawk glittered leather platform sandals (795), and Larkspur & Hawk Lily 22 karat rose gold-dipped topaz drop earrings ($1900). Total: $9645.
4. The Elegant Mother of the Bride:
The verdict: By Malene Birger Belen embellished silk peplum gown ($850), Marni Leather-trimmed watersnake sandals ($1045), and a breath-taking Lanvin Swarovski crystal bracelet ($690). Total cost: $2585.
5. The Summer Bridesmaid:
The verdict: Alexander McQueen belted silk-chiffon dress ($4970), Isharya Jaisel 18 karat gold0plated multistone cuff ($435), and Giuseppe Zanotti embellished suede and leather slingbacks ($1370).Total cost: $6775.
Want to see even more luxe wedding duds? Shop our guides to the best designer wedding shoes, wedding jewelry, and strapless wedding dresses!