Ever since I turned 30, I've been an on a crazed home decor kick. I want my apartment to feel like an actual adult lives there.
The problem? I'm not rich, which means I don't have a ton of money to spend on really fancy furniture or a highly talented interior designer whose hourly rate is more than what I make in a day. You feel my pain?
Enter Decor Aid, a new site that's totally changing the interior design game. They have a team of seriously skilled designers who can work with just about any budget or living space. We were so intrigued with the concept, we had to chat up Decor Aid's founders, Sean Juneja and Markus Weber. Get to know them below, then click through a slideshow to see one of their sick apartment makeovers.
Decor Aid's founders, Markus Weber and Sean Juneja.
SHEfinds: How did you come up with the idea for Décor Aid?

The business was born directly of our frustrations with the traditional interior design business. We both relocated to New York from London a while back, and independent of one another had similar difficulties. I wanted to get my house ready for my family, while Markus wanted to get his apartment ready, in a hurry, to be a place where he could entertain. We both found it nearly impossible to secure excellent design services without six figure budgets or preexisting relationships. That's common in high-end interior design, but it's such an old-fashioned way of doing business. We wanted to make that transaction more modern and accessible to more people.
SF: What do you find are some of the most common misconceptions when it comes to home decor?

First, there's the idea that interior design is a luxury. If your home doesn't work well for you–isn't easy to keep organized, arranged in a way you and your family find satisfying, isn't welcoming to guests or comforting for yourself–that's because of bad design. It's not frivolous or unimportant to address those things: to make your home more efficient, more pleasant, more comfortable.
Then, many people think that having a home that's well-designed is a matter of spending a lot of money; first, that design costs a lot and second, that, spending a lot will automatically yield good design. Neither of these are true. It's more than possible to get great design at every price point, and what you need to get a beautifully-designed home isn't money, it's someone smart and informed and trained in the field to help you with the design work.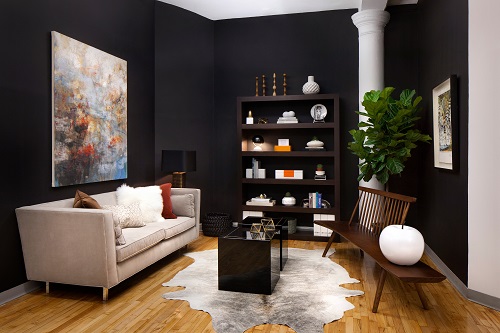 Inside the Decor Aid offices.
SF: What are your favorite places to get cool home items?

We're fortunate to live in one of the best cities in the country for design. Virtually every maker maintains a showroom in New York; virtually every retailer has some presence here. Beyond that, there are the many, many small designers and artisans you find at the flea market or the studio building down the street. So we both love just poking around the city, whether it's strolling through Soho or heading out to the Brooklyn Flea. One thing we've learned in the process of working alongside our designers is that what truly makes something great design is if you love it. So we think whether you found it at IKEA, dug it up on eBay, inherited it from a family member, or discovered it on the curb, if you love it, that's what matters.
SF: What are your top tips for decorating a small space (like a New York City apartment)?

Small spaces can still make big style statements. Start with the logical stuff: get rid of clutter, and think about multifunction (like a dining table that can double as a desk). Begin every project with a floor plan, even if it's just a quick sketch that's not completely to scale. And with apartment living, don't just think about floor area: think about height: floor to ceiling bookcases maximize storage, as can floating shelves over doors, or above kitchen cabinets. You might not have a lot of space, but make sure you're using what you've got. And just because you're short on space doesn't mean you should shy away from big decorative gestures. In fact, dark colors or bold patterns can make a small room feel more intimate, and more interesting.
The Decor Aid designers.
SF: Any tricks or tips for decorating on a budget? How do you make a space look expensive without spending a fortune?

There are so many simple, inexpensive things you can do in the home right this very minute that will have a huge effect. Install dimmers on every fixture in the house; it makes a huge impact. Upgrade and repurpose furniture you already own with a touch of paint, or new upholstery or hardware. It's possible to shop without spending a lot: at consignment or thrift stores, on Craigslist or eBay. And even if you're shopping retail, even high-end retail, you can make a small investment in the little things (vases, pillows, throws, frames) that really pull a room together.
SF: What's the one home decor tip/trick that blew your mind when you first heard it?

We're design newbies, and our designers have taught us a lot – always group items in odd, not even numbers; establish a color scheme using three shades in every room; always use dimmer switches; so much more. But what really surprises us is that for every rule like how big the area rug should be or how low a ceiling lamp should hang, there's always a reason to break that rule. That's the best design tip we've learned: that you don't always need to follow the rules.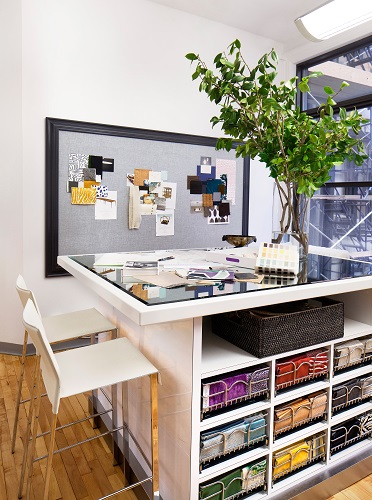 Another peek inside the DecorAid office.
SF:What's next for Décor Aid?

Our long-term hopes are the same as for any business: growth and expansion. But for now, we're thinking about the short-term, concentrating on the many projects we currently have in process, and ensuring that our clients have a great, worry-free experience and are thrilled with the results, whether they're hiring us to take them shopping at the city's best stores or trusting us to create the home of their dreams from top to bottom.
Click through the slideshow to see how the Decor Aid designers transformed a New York City apartment.
For more home decor, check out how to decorate with faux fur and the Novogratz's new dinnerware collection.