Meghan Markle and Prince Harry just made their second official royal outing as an engaged couple (HAND-IN-HAND at that–be still my heart). The couple visited Reprezent Radio in Brixton this morning, "to see their work supporting young people through creative training in radio and broadcasting," according to the official Twitter handle Kensington Palace.
Not only were the couple showing some adorable PDA (which has become their signature), but Markle turned heads *again* for her fashion choices.
The princess-to-be chose black Burberry trousers–not the traditional skirt or dress you often see on royal women for these events. Not only were pants favored at the Golden Globes red carpet this Sunday, but now they're taking over royal engagements, too. Next stop–proms and weddings near you. One can only hope!
And here's the rest of the breakdown on her head-to-toe look:
Always killing the coat game, Meghan chose a grey coat from Canadian brand Smythe for the event. The 'Brando' coat is a favorite of Meghan's–she owns it in other colors. Unfortunately, her exact shade is sold out in camel/grey at sites like Shopbop and Revolve. Some news sites are reporting that the style sold out in an hour upon Meghan wearing it this AM!
Sold out: Smythe Brando coat in Camel ($795)
She also wore a crew neck black sweater with bell sleeves from UK store Marks & Spencer from the brand Autographic, that appears to still be in stock in a few select sizes. Unfortunately, it does not appear to ship to the U.S., however. The Brits get everything good!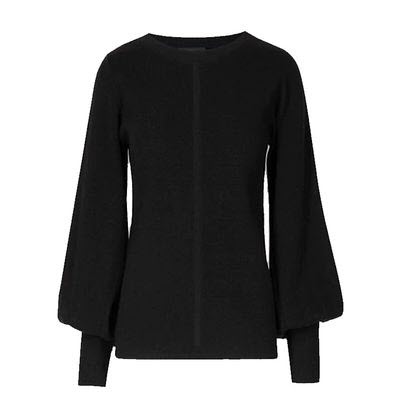 Still in stock in the U.K.: Autograph Wool Blend Round Neck Bell Sleeve Jumper ($60).
Once inside the event, Meghan removed her coat to reveal that she topped off her sweaters and trouser look with a chic thin belt, as well as some lovely delicate jewelry such as a single bangle on her right arm.
In the On Air studio, Prince Harry and Ms. Markle meet presenter Glory as she records her show for @ReprezentRadio. pic.twitter.com/72HjEQpAjv

— Kensington Palace (@KensingtonRoyal) January 9, 2018
She completed the look outside with a slate grey scarf. And–want some drama?–there are conflicting reports about who makes her scarf. Some sites are reporting that it's from Jigsaw (the company Kate Middleton used to work for after St. Andrews) while other sites are saying it's this sold-out scarf from Sentaler: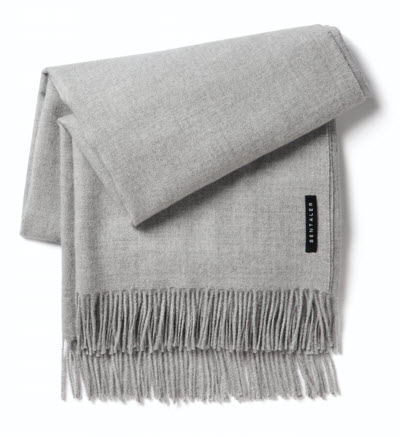 Low in stock: Sentaler New Royal Baby Alpaca Classic Wrap Sand Grey ($320)
We know Meghan and her stylist Jessica Mulroney are huge fans of Sentalar–so this is a toss up.We'll keep you updated on that!
She also wore pointy toe black pumps–always a good choice with wide leg trousers. She chose the Jay pump from designer Sarah Flint–which FOR NOW is still in stock and available in several sizes: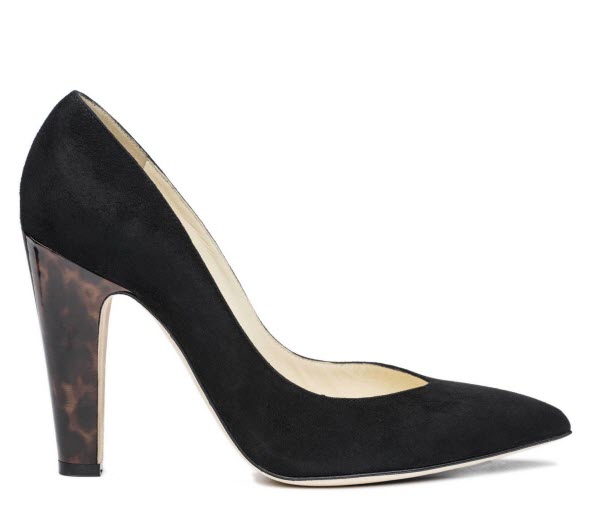 Sarah Flint Jay pump ($395)
So–there you have it, another day, another flawless look for the princess to be! Which item she wore today was a favorite of yours? Leave a comment below!
READ MORE: You Would NEVER Guess Which Brand Makes Meghan Markle's Christmas Dress