Say goodbye to the candid and blurry paparazzi photos… We finally have official engagement photos of Meghan Markle and Prince Harry! Kensington Royal released three stunning photos of the royal couple early this morning via Twitter and we are swooning! According to CBS News, the photos were taken earlier this week at Frogmore House, Windsor, and we must admit that they're absolutely stunning! "The couple are so grateful for the warm and generous messages they have received during such a happy time in their lives," Kensington Royal tweeted after posting the photos.
"One of Markle and Harry's portraits is particularly intimate, with Markle and Harry touching foreheads as she holds his face," CBS News reports. "Both official portraits show off Markle's ring, which includes a center diamond from Botswana and side diamonds from Princess Diana's personal jewelry collection." Markle is wearing a beautiful long-sleeve gown that has has a sheer top and ornate embroidery. According to Vogue, Markle is wearing Ralph & Russo, and she looks absolutely stunning!
Another portrait is a close up of Harry embracing his wife-to-be inside of his coat, the two of them smiling happily. The black and white gives the photo a classic and timeless feel.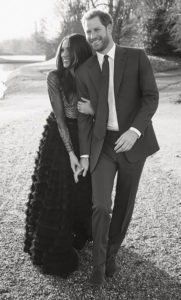 Kensington Royal tweeted this last engagement photo, saying, "As a way to say thank you, [Prince Harry and Meghan Markle] have decided to share this candid photograph from the day of their portrait sittings directly with all of you." The full-body photo features the royal couple interlocked and holding hands. We get a full view of the stunning Ralph & Russo dress that has beautiful black ruffles from the waist down.
The photographer behind these amazing engagement photos is Alexi Lubomirski. "It was an incredible honor to be asked to document this wonderful event, but also a great privilege to be invited to share and be a witness to this young couple's love for one another," Lubomirski said, according to a statement from the palace. "I cannot help but smile when I look at the photos that we took of them, such was their happiness together."
Fans of the royal couple are just as happy as Lubomirski, sharing their love and support for the royal couple on Twitter:
"All three photographs are beautiful and capture the obvious love between them. I hope they enjoy a wonderful Christmas together." –@SamNicT1303
"Hey, I think my wedding invite got lost in the mail…can you resend it to me? I can DM you my address." –@TheMissWare
"Gorgeous photographs! Splendid to see Prince Harry and Ms. Markle being their authentic selves in defining their relationship. As a mother, myself, I would guess Princess Diana is very proud of Harry and his selection for a life mate." –@anghiari34
We've been waiting for this happy moment ever since Prince Harry and Meghan Markle first announced their engagement on Nov. 27th. We've been tracking all the details including the wedding date (May 19, 2018) and venue (St. George's Chapel at Windsor Castle). Trust us, our calendars are marked for the big day!
Wondering what Meghan Markle's wedding dress will look like? Find out all the details here at SheFinds.com!
[Photo: Splash]