It's official: Prince Harry and Meghan Markle are engaged and the next royal wedding plans are in the works! We can hear the wedding bells already! Kensington Palace announced via Twitter that Prince Harry, 33, and Meghan Markle, 36, plan to wed at St. George's Chapel at Windsor Castle in May 2018.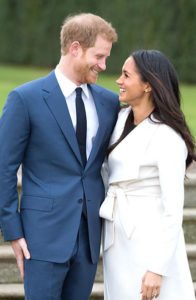 According to E! News, Windsor is a special place for His Royal Highness and the Suits star, and they have routinely spent time there over the past year while dating. The location is also significant, as it is where Prince Harry's father, Prince Charles, married Camilla, Duchess of Cornwall back in 2005. Dickie Arbiter, the Queen's former press spokesman, told U.K. Newspaper the Sun that the venue has great royal significance and it is just as ideal as it safe and affordable — not that that would be a problem for the royals! "If you have it in London, there [is] tremendous expense, whereas if you have it in Windsor it is less expensive," Arbiter says. "There is great historic value and it's also, from a security point of view, a lot more self-contained than Westminster Abbey (where Princess Kate Middleton and Prince William married)." The wedding venue is a 15th century Gothic chapel that has a seating capacity of approximately 800.
Queen Elizabeth herself has granted permission for the royal wedding to be held there, and she isn't the only royal who is excited for the happy couple. Duchess Kate also expressed her excitement for the couple, saying, "William and I are absolutely thrilled. It's such exciting news. It's a really happy time for any couple and we wish them all the best and hope they enjoy this happy moment."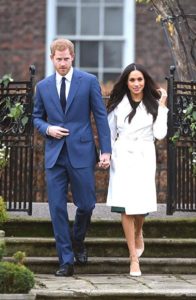 It was announced on Monday Nov. 27 that Prince Harry had popped the question to Markle after dating for over a year. According to The Sun, Harry proposed with a stunning ring that included a giant diamond from Botswana set between two stones from his mother, the late Princess Diana's, jewelry collection.
But Markle's has got more on her to-do list than just walking down the aisle and saying "I do." Marrying into British royalty means getting British citizenship, but that won't be a problem for the American-born actress. In fact, Markel is looking forward to becoming a citizen of the United Kingdom after the wedding, according to Daily Mail. "Now being boots on the ground in the U.K. I'm excited to get to know more about the communities here, smaller organizations who are working on the same causes that I've always been passionate about….and also being able to go round the Commonwealth, I think it's just the beginning," Markle says.
A spokesperson for the family says it's "too early to say" whether or not Markle will keep her American citizenship. In the meantime, Prince Harry and Meghan Markel "will undertake their first official engagements together in Nottingham this Friday (Dec. 1)," according to Kensington Palace.
The wedding venue is all set, but what will the bride-to-be wear? Take a look inside Markel's favorite wedding dress designers at SheFinds.com!
[Photos: Splash]