The fashion-forward slouchy over-the-knee boots Meghan Markle wore at her first royal appearance since getting engaged have (unsurprisingly) almost completely sold out!
Just days after Meghan and fiancee Prince Harry stepped out in Nottingham for World's AIDS Day, her Kurt Geiger London 'Violet' boots have gone the retail version of viral: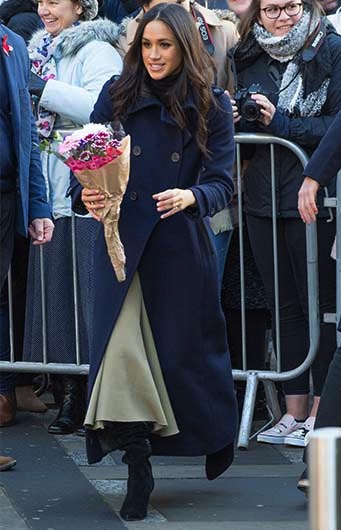 The "Meghan Markle Effect" is very much real–her black slouchy boots have sold out in almost every size in black (the color Meghan wore) as well as the similar grey shade. Cue the alarms!
Prince Harry and Ms. Markle meet crowds who have gathered outside the National Justice Museum in Nottingham. pic.twitter.com/apONYppYb2

— Kensington Palace (@KensingtonRoyal) December 1, 2017
Unfortunately, you couldn't really see them beneath her mid-length khaki skirt during the Nottingham appearance, above. As you can tell from the clip Tweeted out by the Kensington Palace Official Twitter Account, Meghan took time to meet the throngs of adoring fans that showed up to greet her and Harry at the event. Despite the boots not being on display at the event, they are a thing of beauty: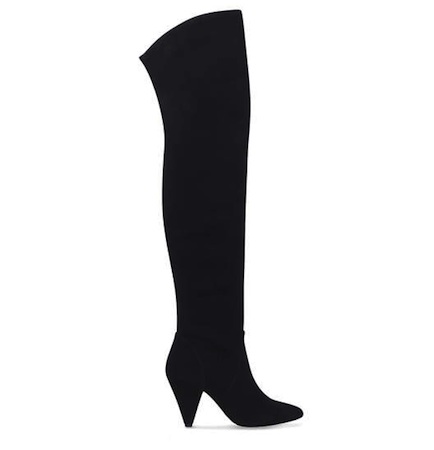 Originally sold at Kurt Geiger online, as well asBritish staples Selfridges, John Lewis and Debenhams, these black suede boots have a gorgeous dramatic slouchy silhouette, an on-trend cone heel (at a reasonable height of 3.3 inches!), a burgundy liner and a generous ankle and calf circumference so pretty much anyone can wear them! Gorgeous.
The stock is dwindling–FAST!–at all places, however. The KG KURT GEIGER VIOLET boots in black ($295) are still available in size 4 on the Kurt Geiger US commerce site. They have pretty much every size of the grey. If they're not available in your size, the company recommends calling their customer care team at +44 (0) 207 781 7480 to join the waiting list.
Also, they are still available at Selfridges in grey in three sizes.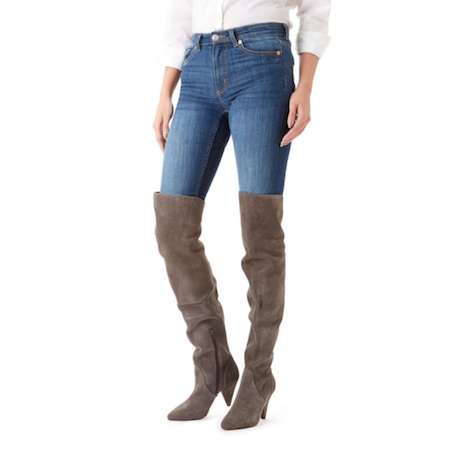 The equally stunning (and still in stock!) KG KURT GEIGER VIOLET boots in grey ($295).
Harrods has a silver metallic pair that is perfect for the holidays! They retail for a bit more than the basic black–this festive pair will set you back $320.
We're having deja vu all over again from last week when every outfit, coat, dress, handbag, etc., she donned was impossible to find online! First, we were SOL to find that both her white coat from Line as well as her green dress from Parosh that she wore for her engagement announcement were no longer available online. Rats! To boot, the Mackage navy coat she wore for the same Nottingham appearance seems to be completely gone as well (not to mention that her handbag sold out in minutes!).
Now footwear fanatics are freaking out about her incredibly cool, slouchy, over-the-knee boots.