Like most women, the sight of an eyeshadow palette makes me giddy. The truth is, though, I basically never use them. Powder eyeshadows just don't do it for me. Instead, I pretty much exclusively wear cream formulas in metallic shades like gold and copper. They open up my eye, make my skin look brighter and don't leave powdery sparkles all over the rest of my face.
Because I've basically eliminated powder eyeshadow from my makeup bag, I'm always on the hunt for amazing creamy eyeshadows and I have a new favorite that I just have to rave about: L'Oreal Infallible Paint eyeshadow!
First off, who doesn't love the idea of applying paint to their eyelids?! The name alone makes me so happy because makeup is art, after all. I'm also obsessed with the fact that you get two for one with these shadows! Yes, each side contains a different shade… for under $10!
My go-to is the Nude Fishnet combo which includes a gold metallic eyeshadow and a pretty rose gold shadow. There's a reason this stuff is called paint: the formula quite literally resembles paint which means it delivers really amazing, intense color to your lids. Even better, it lasts all. day. long.
The applicator is like a lip gloss applicator which can be a little tricky on the eye, but with a little practice I've mastered the perfect technique. You will too, don't worry.
If you're more adventurous than me, be sure to check out all the other color combos this shadow comes in. From vibrant blues to dark blacks and browns, this stuff is so fun to use.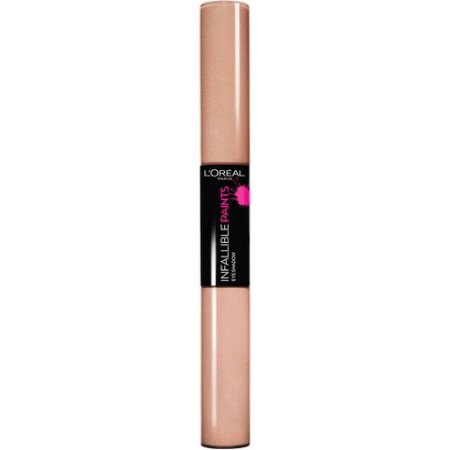 SHOP L'OREAL INFALLIBLE PAINT EYESHADOW NOW
Be sure to check out the best drugstore beauty products and more SHEfinds beauty essentials.
[Photo: Walmart]
SheFinds receives commissions for purchases made through the links in this post.