I had to stop myself from wearing my swimsuit to the office today. After spending some time at Mercedes Benz Fashion Week SWIM in Miami Beach last week, wearing next to nothing seems like the most natural thing in the world. The sexier, stripped down sister of New York Fashion Week, Miami's spin had models sashaying around a pool-turned-catwalk in the skimpiest of summer fashions. The Scene:
Bold was the new black as far as Miami street (or poolside) style was concerned. There was nary an LBD to be found in the sea of flowy, resort-chic maxi dresses in over-the-top, bright patterns. From the opening night swimwear strutters to the Chambord-sipping scenesters milling around the tents, it became obvious that tie-dye is back. If you're onboard with the look, don't go too hippie—choose something subtle and with only a couple of colors, like Arden B's raspberry twist-strap maxi ($38).
Another trend spotted: the harem pant jumpsuit. If you've got that no-inhibitions Miami style going for you, check out Alex Lane's navy silk jumpsuit ($345). The Show:
Tibi designer Amy Smilovic decided to take some design scent-spiration from Degree's new beach bag-worthy line of body mists and deodorants, and three delish scents (Delicious Bliss, Sexy Intrigue, Classic Romance)  inspired three eye-popping suits. You can score Degree's new fine fragrance products at Drugstore.com, but you'll have to wait for 2010 to snag the corresponding Tibi beachwear. In the meantime, we have plenty of options for you to choose from.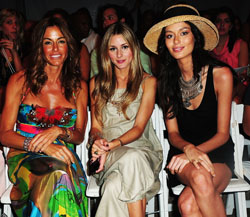 The Celebs: Wouldn't you know it, there were zero Kardashian sightings. C'mon, lesser K's, are you really doing so well for yourselves that you don't feel the need to plug your Miami-based reality show? Instead, the front-and-center seats went to Real Housewife Kelly Bensimon, who was seated next to The City's Olivia Palermo and Make Me a Supermodel mentor Nicole Trunfio. Whitney Port made an appearance, and so did Old School and Entourage actress Perrey Reeves. Check out our celeb guides to catch up on some star style, and see the best bathing suit styles for your body.