And just when everyone's Best Dressed lists were complete! In the final 5 minutes of last night's 2013 Oscars broadcast, Michelle Obama made a surprise appearance – live by telecast from D.C. – to help present the big award for Best Picture. And even though the First Lady wasn't actually in the Kodak Theater, she stil managed to get the web buzzing about her striking metallic gown. The smoke grey and silver art deco-inspired beaded sleeveless tulle gown was designed by FLOTUS favorite Naeem Khan, and was the same dress she wore for the governors' dinner at the White House earlier in the night. No costume changes necessary for Michelle. We loved the way she finished her look with a chic updo (we haven't seen her hair up since the bangs!) and chunky Sutra Silver at Fragments jewelry earrings.
Though Mrs. Obama's dress was custom made, it seems to have been adapted from his fall 2012 collection (see below). And if you were a fan of her earrings, a similar pair from Sutra are available online now – we just hope you are willing to drop close to $10,000. Scroll down to see more.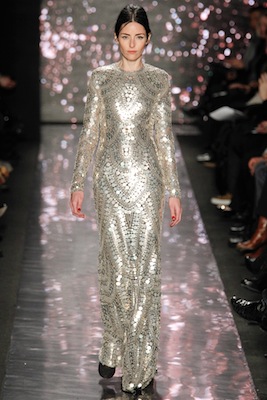 Naeem Khan Fall 2012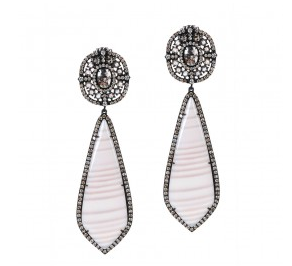 Sutra Hollywood Glamour Drop Earrings ($9,575)
For more red carpet news, check out Anne Hathaway's revealing pink Prada gown, Adele's 33 lb (!?) Burberry performance dress and Zoe Saldana's Parisian-designed ensemble.
[Photo: The White House]