Last night, Barbara Walters named First Lady Michelle Obama her most fascinating person of the year. While we loved hearing her talk about important issues (as well as her favorite cooking shows), we were fascinated by her floral-print Rachel Roy dress–namely, how she manages to wear florals so often in different ways.
Since becoming First Lady, she's worn floral cardigans, jackets, dresses and skirts, proving just how versatile the print can be. Follow in our First Lady's footsteps and incorporate a pretty floral print, like the ones below, into your wardrobe.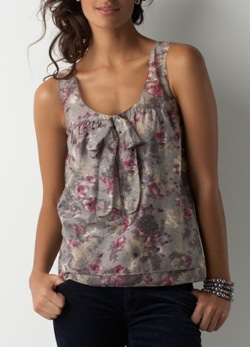 1. This muted top works just as well with a pencil skirt and pumps as it does with jeans and ballet flats.
2. The muted neutral tones in this floral dress make it a multitasking piece. Wear it all year long.
3. This floral print tulip skirt will be the star of any outfit. Pair it with black or white to temper the standout print.
Be sure to read our complete Michelle Obama style guide, plus check out more dresses, cardigans and skirts we love.