Miley Cyrus and Liam Hemsworth are one of the greatest celebrity couples of our time. After calling off their engagement almost two and a half years ago, the couple is back on in a MAJOR way. They're (maybe, hopefully, probably) engaged!! In honor of their young love, let's take a look back at Miley and Liam's relationship:
June 2009: Miley, 16, and Liam, 19, meet while filming The Last Song, the other Nicholas Sparks movie that makes you believe in true love besides The Notebook.
Their chemistry is…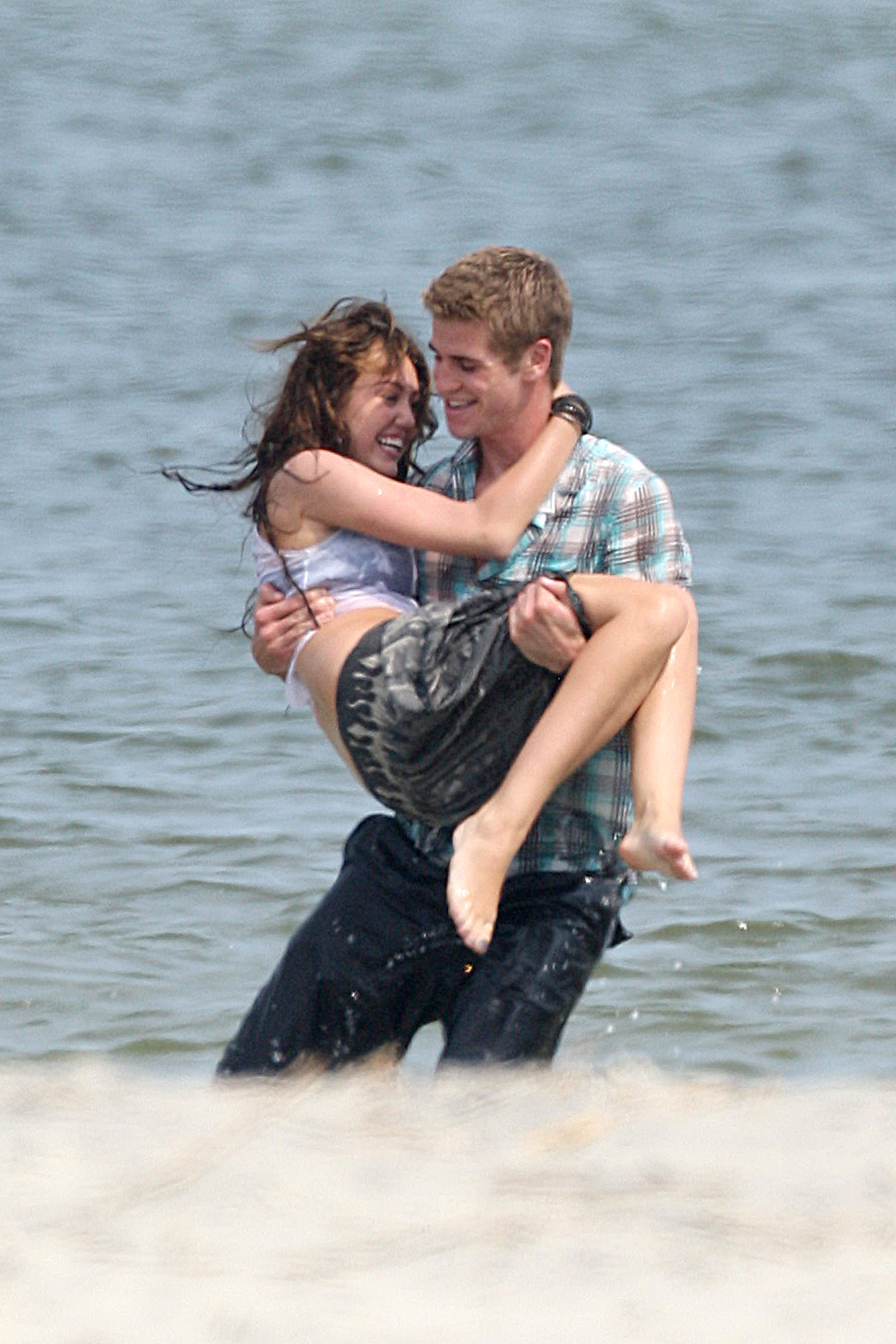 UNDENIABLE!
September 2009: After months of speculation that these two are an item IRL, Miley and Liam are caught kissing by the paps and confirm they are in fact dating (*angels sing*).
November 2009: Miley calls Liam her "best friend" in an interview with Seventeen. She also tells the mag, "I've never gotten along with someone so well." She continues, "I was a little anxious about making this movie; I wanted everything to be perfect. To go on set and feel insecure was a totally new element for me. But he felt the same way. He admitted his insecurities, and it was really nice to have someone who understands me for once."
I MEAN…
March 2010: Miley and Liam make their red carpet debut as an official couple at the premiere of The Last Song.
Ahh, young love.
August 2010: After dating for almost a year, Miley and Liam break up for the first time. Reportedly, the relationship was too time consuming for Miley's busy work schedule.
September 2010: Miley and Liam are back on! They are spotted spending time together in L.A. and PEOPLE reports the reconciliation.
November 2010: They break up…again. A source tells E! it's "just a time out."
April 2011: Time out over! Miley and Liam are a couple once again but this time, E! reports they are "taking it slow and just enjoying each other's company."
July 2011: Do we hear wedding bells?! This is the first time engagement rumors begin to swirl for the couple.
December 2011: Liam and Miley attend the CNN Heroes Gala and they look like a bonafide Hollywood couple.
"Nobody's perfect…except me and my boyfriend"-Miley (we think).
February 2012: Liam tells Details that Miley makes him "really happy." We see the love that these two have for one another on full display at the infamous Vanity Fair Oscar party.
That body language tho.
March 2012: Miley is spotted wearing a ring on that finger after accompanying Liam to The Hunger Games premiere. Engagement rumors brew once again, but Miley sets the record straight on Twitter.
I'm not engaged. I've worn this same ring on this finger since November! People just wanna find something to tal about! It's a topaz people!

— Miley Ray Cyrus (@MileyCyrus) March 26, 2012
June 2012: Miley Cyrus and Liam Hemsworth ARE ENGAGED!!!!!!!!!!!!!!!!! Party in the U.S.A!!!!!!!!!! She debuts the stunning 3.5-carat diamond ring made by the one and only, Neil Lane.
August 2012: It was the haircut heard around the world. Miley debuts a platinum blonde shorter 'do at the MTV VMAs. It's clear once and for all that she is no longer "Hannah Montana" and going through something life-changing. Many think this was a turning point in the couple's relationship, even though her hair has nothing to do with him.
Can't be tamed.
December 2012/January 2013: Miley and Liam vacation with his family in Costa Rica. Fun times.
February 2013: The couple attends separate Oscar parties, with Liam spotted cozying up to January Jones. Also, they postpone their wedding… the breakup rumors begin once again.
March 2013: Miley is spotted without her engagement ring. IS THE WEDDING OFF??
June 2013: Miley and Liam are photographed together for the first time in five months (*breathes once again*).
August 2013: Miley accompanies Liam on the red carpet for the Paranoia premiere. The tension between the duo can not be ignored.
Yikes.
August 2013: Miley twerks at the MTV VMAs and ~*nOtHiNg WaS tHe SaMe*~.
[youtube]https://www.youtube.com/watch?v=YFLv9Ns1EuQ[/youtube]
Did this performance have anything to do with the breakup? We'll never know…
September 2013: Miley unfollows Liam on Twitter and it is then that we know the end is near.
Three days later, her rep confirms the engagement is called off, leaving us all devastated. Then, just when we all couldn't take any more heartbreak, Liam is photographed making out with Mexican actress Eiza Gonzalez one day after the split. IS TRUE LOVE DEAD??
September 2013: For her first post-split performance, Miley breaks down while performing "Wrecking Ball," a song that is rumored to be about Liam.
[youtube]https://www.youtube.com/watch?v=65ICzyF7OUE[/youtube]
All the feels.
November 2014: Miley begins dating Patrick Schwarzenegger, which is her first serious relationship since Liam.
March 2015: Patrick is spotted doing body shots off someone who is not Miley…
April 2015: Miley and Patrick break up.
August 2015: Miley tells Elle UK that she is not in a relationship (despite rumors of a romance with British model Stella Maxwell) and that she is pansexual.
October 2015: Liam talks Miley in an interview with Men's Fitness. He says being with the singer/actress was "an important part of my life." Then continues, "You fall in love with who you fall in love with; you can never choose." Could this guy be any sweeter?
November 2015: Liam adopts a dog with the help of his ex-fiance. Meet Dora the Explorer!
January 2016: Miley is spotted in Australia, the Hemsworth homeland, and pops up in this Instagram photo with Elsa Pataky, Chris Hemsworth's wife. But most importantly, Miley and Liam are CAUGHT K-I-S-S-I-N-G at a music festival down under. THIS IS NOT A DRILL.
January 2016: Miley wears a ring on that finger AGAIN, which means her and Liam could be engaged, AGAIN.
January 2016: TMZ reports Miley moved in with Liam with the greatest headline to ever grace the Internet,"Miley Cyrus U-Haulin' Ass…To Liam's House!!" Get it?? Because she drove a U-Haul truck over to his Malibu place???
January 2016: It's (pretty much) confirmed, WE HAVE A MILEY-LIAM WEDDING AGAIN.
April 8, 2016: FINALLY! Miley and Liam step out together for the first time since getting re-engaged. The on-again couple grabbed lunch in West Hollywood with the rest of the brothers Hemsworth… wedding planning much? ET has the photos in video form so you can keep that on a repeat all day. You're welcome.
June 2016: Miley takes Liam's last name? The singer posted an Instagram wearing a shirt that says "Hemsworth" on the back, accompanied by three cat emojis with heart eyes. One step closer to a Cyrus-Hemsworth union!!!
And all is right in the world.
[Photos: Splash News]