Last week, Kylie Minogue (above, at left), Cheryl Cole, and Elle Fanning (yes, Dakota's little sister) all rocked the same pair of camo Paige Denim's Verdugo jeggings. Now, the Verdugo jeggings just happen to be the most flattering/comfortable pair of jeggings we've tried, but the camo trend caught us a little off guard. Then Rihanna was spotted in camo print J Brand Houlihan jeggings and Miley in a Forever 21 pair of camo skinnies. I guess this is really happening.
So, we want to know: how far would you take this military pants trend? Are you the subdued olive cargo or do you dare to wear the full-on camo?
For The Girl Scout Trainees: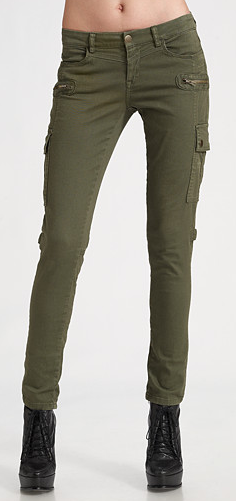 These deep olive Blank Denim Skinny Cargo Pants ($84) are a great color, don't overdo it on the pockets, AND they're under $100. We know – we're just as in love as you are.
The Paige Denim Verdugo Jeggings ($94.90) are honest-to-god the best skinny jeans out there right now not only because they fit amazingly well but, because they come in a ton of washes, like this olive color, and they make everybody look fantastic. Snag them in a classic blue wash here.
For The Mid-Level Sergeants:
If you can't bring yourself to wear the full-fledged camo, you can wear these J Brand Houlihan Cargo Pants ($230) instead. Seen on pretty much every celeb from Rihanna to Vanessa Hudgens to Jessica Alba above, they've proven that they're worth every penny in both style and comfort.
You'll definitely look rich and feel skinny in these Rich & Skinny Cargo Leggings ($172). The little pockets and brass button details add an extra oomph that take these leggings from cool to hot.
For The Hardcore Captains: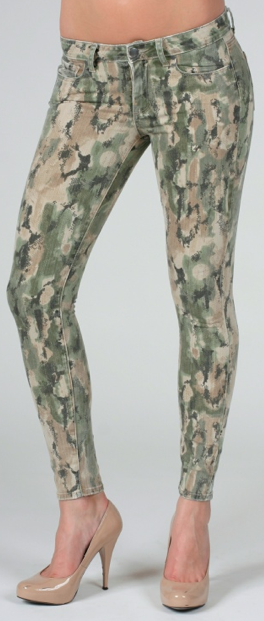 The hot new jeggings, Kylie's Paige Denim Verdugo Jegging in Super Tanzania ($189), are not for the faint of heart. Pair them with neutral camel boots and a basic gray top and let the bold pants do the talking.
For more must-have celebrity trends, check our guides to jeggings, off-the-shoulder tops, celebrity handbags, and military jackets. Join our e-mail list for exclusive fashion updates.