Miranda Kerr traveled to Tokyo to promote Japanese handbag line Samantha Thavasa, of which she is the newest spokesmodel (Beyonce, J.Lo, and Victoria Beckham are among her predecessors). During her stay, the Aussie model paid a visit to the designer flagship wearing a Balenciaga Birch Print Mini Skirt ($715) and a pair of Miu Miu Catwalk Sunglasses ($390). We love the abstract-style nature print (birchwood, to be exact) on the thigh-baring skirt, and one can do no wrong when with one of this year's most coveted sunnies. Or rather, Kerr can pretty much do no wrong with whatever she chooses to wear—her python-print t-shirt and berry-hued dress prove it.
Balenciaga Birch Print Mini Skirt ($715)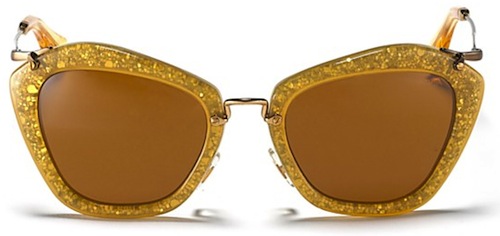 Miu Miu Catwalk Sunglasses with Thin Temple ($390)
Shop more celebrity style: Pippa Middleton's purse, Sara Jessica Parker's camo-print jeans, Jessica Alba's fedora, and Nicole Richie's heels.
[Photo: Splash News]