Dear Diary,
It was really hard for me to leave Brooklyn, with its cheap beer and hot wings and football festivities, but once I actually got inside the Fashion Week tent, I had no regrets (other than my outfit). Beautiful people were sipping champagne from plastic cups, ambient music was pumping, and the Miss Sixty Fall 2008 show was almost underway. I slid into my front-row seat (bizarrely acquired under strange circumstances) just in time to be shoved aside by photographers who hussled to get shots of the arriving celebrities: Ashley Olsen, Milla Jovovich, Anne Hathaway, and Chloe Sevigny.
I was only two seats down! You'll notice the girls look underwhelmed–gorgeous, but underwhelmed. To be honest, Miss Sixty's Rock Revolution collection featuring a "haute hippy" aesthetic was mostly disappointing. A few items did impress me, however, like this black and grey cotton twill jumper with purple patent leather opera gloves:
But what I really cared about was what the celebrities were wearing. Check out Milla and Anne's similar style – tight black dresses with cinched black belts:
Milla funked-up her outfit with a beige jacket and some scrunched-up legwarmers, while Anne stayed classic with black heels. The little black dress is a must-have for any wardrobe, and these two fashionistas wear it well, demonstrating how you can dress it up for different looks. Here are a few versions of this iconic item that people like me can play with:
1. INC International Concepts Belted Sheath Dress ($129)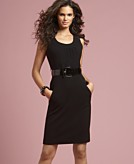 2) Nine West Stretch Satin Ruffled Dress ($109)
3) Elie Tahari metallic floral Gaylan dress ($219)
Check out our coverage of the Abaeté and Tracy Reese shows.
Love,
SheFinds