Even if you don't have little ones of your own, this handy list from MomFinds will help you choose the coolest interactive gifts that will have the nieces, nephews, cousins or siblings on your list beaming with excitement. Plus, we share where to find our 21 sold out favorites (get them now before they're gone), and take a look at more MomFinds' top picks.
1. The Matchbox Rocky the Robot Truck goes beyond the call of duty: he not only loads and dumps, but responds to voice commands, tells jokes, dances, and even snores while sleeping, providing way more hours of entertainment than the typical toy truck.
Ages: 3 and up
Price: $59.99-$79.99
Get Yours: Amazon, Kohl's, Entertainment Earth
2. Zambi the Baby Elephant is the newest addition to the popular Fur Real Friends series. Kids will love that Zambi giggles when tickled, wiggles his ears and blows kisses.  Half of his net profits go toward children orphaned by AIDS in Africa.
Ages: 4 and up
Price: $29.99-$58.39
Get Yours: Boscov's, Target, Toys R Us, Amazon, Kohl's, Buy.com, Shop.com
3. A Nintendo DSi Handheld Game System is a sure fire hit in cool colors like pink and electric blue, especially with its latest features: a digital camera and internet browsing–perfect for the on-the-go, multi-tasking gamers in your life.
Ages: 6 and up
Price: $169.99
Get Yours: Target, J&R, Toys R Us, Amazon, Barnes & Noble, Buy.com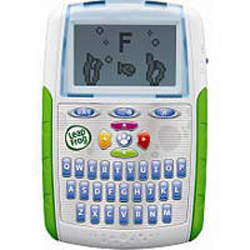 4. The LeapFrog Text and Learn lets tots get a jump start on texting madness – but more importantly, its fun graphics help them learn to read.
Ages: 3 and up
Price: $14.99-$29.95
Get Yours: LeapFrog, Boscov's, Barnes and Noble,  Buy.com, Dillard's, Target, Amazon, Kohl's, Sensational Beginnings,
5. LeapFrog My Puppy Pal Scout and LeapFrog My Puppy Pal Violet each adorable stuffed animal can be programmed with its owner's name, favorite food, color, and songs. (Bonus points: buy it along with the Leapfrog Text and Learn, above, so they can text with Puppy Pal Scout.)
Ages: 6 months to 3 years
Price: $14.99-$19.99
Get Yours: Target, Dillard's, Toys R Us, Amazon
Now that you've gotten all your shopping out of the way for the kids in your life, find gifts for yourself (or for, you know, other adults) we'd recommend cozy slippers, fun fingerless gloves, and chic patterned stockings and tights.