If we're being honest, chances are, your mom or mother-in-law has managed to cause their fair share of pre-wedding breakdowns over the last few months of your wedding planning endeavors. While the wedding planning drama is super annoying but hard to avoid, there are a few fires that can be put out before they even begin.
No matter how frustrating your mothers can be, you want them to be happy, just as much as you are, with the big day plans. That means really impressing them and pleasing them when it comes to their outfit for the memorable event. While most of the wedding planning focus is on you (as it rightfully should be) make sure to take the time to help your mother and mother-in-law find the perfect outfit for this life-changing event, as well.
By helping them both find something smashing to wear to your spring wedding, you'll make everyone happy. If your moms are comfortable with their wedding day ensemble, you will have much more peace of mind knowing they're feeling their best. Everyone should feel beautiful at a wedding–bride, mother, and mother-in-law included.
There are plenty of mother of the bride outfits to choose from. Whether she wants modest sleeves to cover her upper arms, a beautifully draped A-line dress to flatter her shape, or a pop of color that will compliment your wedding's accent colors, it's important to make sure everyone is pleased.
There are plenty of designers who make gorgeous mother of the bride dresses, in inclusive sizes. For the most flattering fit, remember to look for a gown that tapers at your most narrow spots, such as just below the bust and the natural waist.
For mother of the bride and mother-in-law gown inspiration, check out some of our favorite looks for spring below and shop our approved list of dresses!
1. classic lace dress + strappy heels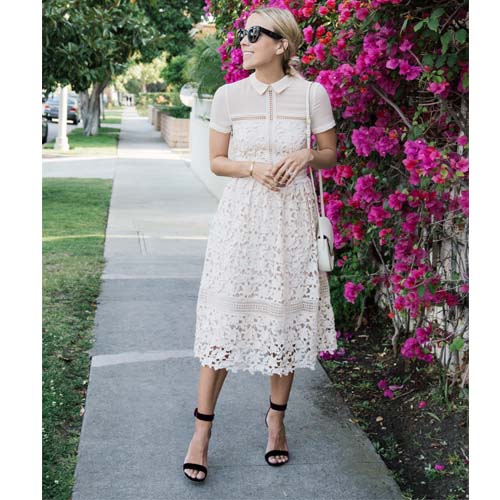 [Photo: Damsel In Dior]
We love classic lace dresses like this one for spring weddings. Wear a detailed and intricate dress with a simple pair of strappy heels to pull the look together. This outfit is super feminine and pretty for spring.
2. elegant gown + statement pumps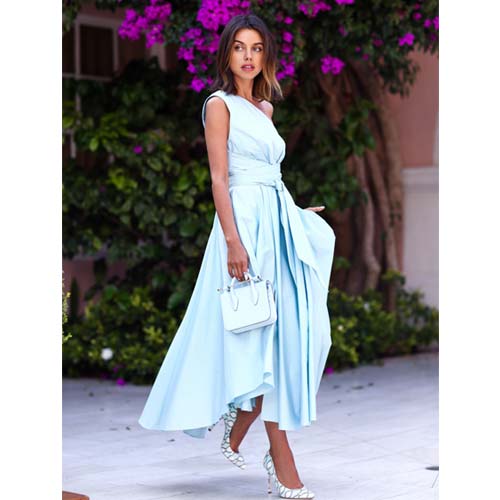 [Photo: The Viva Luxary]
If your spring wedding is a bit more upscale, the mother of the bride and your future mother-in-law should look the part. A simple, yet stunning elegant gown like the one above is a great option. A front tied sash accentuates the waist and adds a nice detail to the gown. Pairing it with complimentary pumps, either in a fun color or print, will tie the outfit together nicely.
3. fun pantsuit + bright heels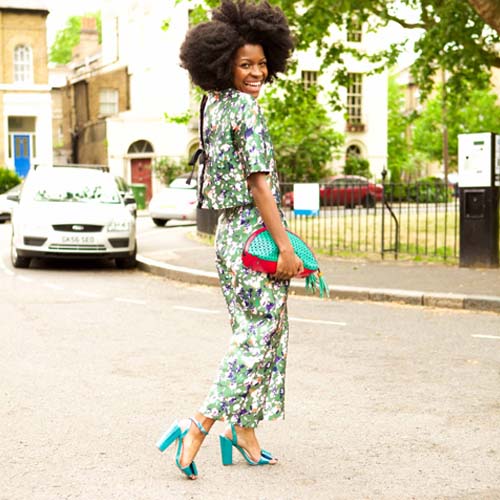 [Photo: Freddie Harrel]
If either of your mothers would prefer to not wear a dress to your spring wedding, no problem! There are gorgeous springtime options for them, as well. A pantsuit in a sophisticated, yet fun print like the one above is great spring wedding attire. Model a pair of bright, complimentary heels with the suit to polish off the ensemble.
Shop similar looks below:
Eliza J Off the Shoulder Jumpsuit ($138)
Dessy Collection Convertible Wide Leg Jersey Jumpsuit ($160)
Dessy Collection Convertible Wrap Tie Surplice Jersey Gown ($150)
Alfred Sung Jersey Bodice A-Line Gown ($218)
JS Collections Soutache Mesh Dress ($260)
SheFinds receives commissions for purchases made through the links in this post.