Despite the popularity of fitness trackers and watches over the last few year, I never bought into them. They were all just so… unattractive. I know it's vain, but I was just completely disinterested in wearing a black rubber band around my wrist.
Oh, but the allure of tracking my steps. And setting goals. It all started to sound so good to me, so I finally decided about two weeks ago that I would make it my mission to get myself a non-ugly fitness watch for my birthday. And in a super creepy, but also completely wonderful twist of fate, my friends at Timex were like, "Hey, you wanna try our new Timex IQ Move?" Of course, I had to Google it first and wowza, this fitness watch actually looked like a, well, watch! I immediately (and enthusiastically) responded, "Yes!"
I've been wearing my Timex IQ Move for about one week now and now I know why these things are so popular. I never want to leave home without it. Heck, I never want to walk to the kitchen without it! It does an amazing job tracking my steps, sleep, miles walked and calories burned using a Bluetooth connection to an iPhone app, but more importantly, it looks so pretty! No one would ever know it's anything other than an ordinary watch because it looks so great stacked with bracelets on my wrist. Petty? Maybe. Insta-worthy? Totally! I can't recommend this activity tracker watch highly enough. It's amazing and you need one. Period.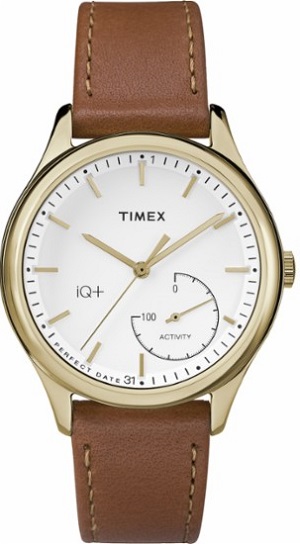 SHOP THE TIMEX IQ MOVE ACTIVITY TRACKER NOW
Be sure to check out Glossier's new Cloud Paint blush and my favorite running sneakers.
[Photo: Best Buy]