At first glimpse, I thought $30 seemed like an outrageous price for this tiny container of Origins eye cream. But I had heard so many great thing and decided to give it a chance, and it just so happened to be love at first try. Keep reading below to find out why I can't live without this product.
What is it: A clinically-proven eye cream made with caffeine from coffee bean, Panax ginseng, magnolia extract, and natural optic brighteners that wake up, refresh and revive tired eyes. It claims to instantly de-puffs and minimizes dark circles.
Why I love it: I have severe allergies and my under eye circles are genetic, so dark circles are a huge problem for me. I've tried tons of eye creams to try and help minimize my bags, but nothing ever worked—until I discovered this Origins GinZing Refreshing Eye Cream ($30). It does exactly what it claims: it instantly de-puffs and minimizes dark circles. And it feels so refreshing that I find myself applying it throughout the day to relieve my tired eyes. It's also a hangover miracle product and will help make you look more awake and vibrant, even when you feel like pure sh*t. And lastly, don't be alarmed by the price tag. A little goes a long way and this tub will last forever: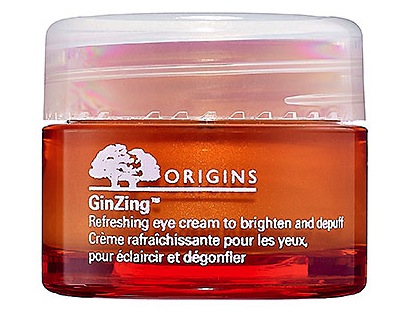 Where you can get it: You can find this miracle eye cream online at Sephora, as well as most major department stores.
For more beauty tips, check out: How to fix a chipped mani, cult-favorite skincare products and how to completely remove glitter nail polish.