I'll be the first to admit it, I don't have the best skin. Blackheads and clogged pores are basically my worst enemies. I've had those things all over my face for years, and no matter how hard I tried to get rid of them, I never found a true solution. Until now.
I have been using GlamGlow Supermud Clearing Treatment ($69) for about a month now and I can already see a crazy improvement. From the second you put this stuff on your face, you can see it start to work its magic. All you have to do is rub the mask on your clean face and leave it on for 10-20 minutes. (Disclaimer: This product is not for the weak stomached.) While the mask is drying you can literally see it pulling all of the nasty stuff that's clogging your pores out of your skin. It's pretty gross. Once it's done digging all the gunk out, just rinse it off with warm water, and your skin will look and feel sooo much clearer. Use it three times a week and you'll be on the road to blackhead recovery in no time.
Think about all the stuff that gets deep in your skin every day, and it's not just makeup and natural grime like sweat. If you live in a big city or a polluted area, smog, dirt, and tiny dust particles are also getting in there and clogging you up. Believe me, this is a much better (and safer) way to get all that junk out of your face than standing in front of a mirror and squeezing it out for hours. This works in just 20 minutes and it's so much more effective. So, if you need to do some deep cleaning, try GlamGlow. You might be grossed out, but I know you won't be disappointed. Buy it at Sephora now!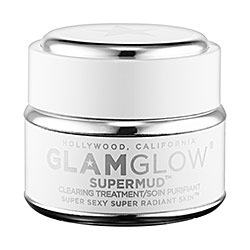 GlamGlow Supermud Clearing Treatment ($69)
Want to make your face look even better? Check out: sweatproof beauty products, award-winning beauty products, and Sephora airbrush foundation.