I'm a voracious reader, but sometimes I don't have the attention to read something really hefty and literary. One of my favorite book categories is "dark and twisted"–not blood-and-guts horror, but emotional horror (like how awful people can be to one another). Think "Gone Girl"–not Stephen King. These books are sick in the head but also funny, so if you're in the mood for gallows humor, they're perfect.
(Here's my money-saving tip: join your local library and get the books online for free. Last season's must-reads are usually available right away.)
1. "You"
by Caroline Kepnes. Joe is a creepy stalker… and you're totally on his side. If you're just hearing about this book now, I'm jealous. There are two more books in the series, so you can really do a Netflix-binge on them.
"I am RIVETED, AGHAST, AROUSED, you name it. The rare instance when prose and plot are equally delicious." —Lena Dunham
2. "The Silent Wife" by A. S. A. Harrison. This is why you need him to put a ring on it, or at least put you on the deed of the gorgeous condo you've been living in for 20 years with your philandering boyfriend. When said boyfriend decides to leave you for a younger model you might just have to kill him to keep the condo.
"The surprises keep coming, pager after quiet page… Harrison writes well with a light touch, but her touch is devastating nonetheless." – The Guardian, US Summer Reads pick
3. "The Lemon Grove" by Helen Walsh.  So, say you've rented a gorgeous beach house in Majorca with your long-time husband and your daughter shows up with the equivalent of a young Ryan Gosling meets Bradley Cooper (at least that's what he looks like in my fantasy) and he's into you… This is the book where you get to do the bad thing.
"Impossible to put down. . . . Walsh's novel, which takes place over the course of just one week, will have people talking about it for a long, long time. It exudes controversy and hushed conversations that almost feel taboo. . . . And the unexpected ending will shock you to the core." —Romantic Times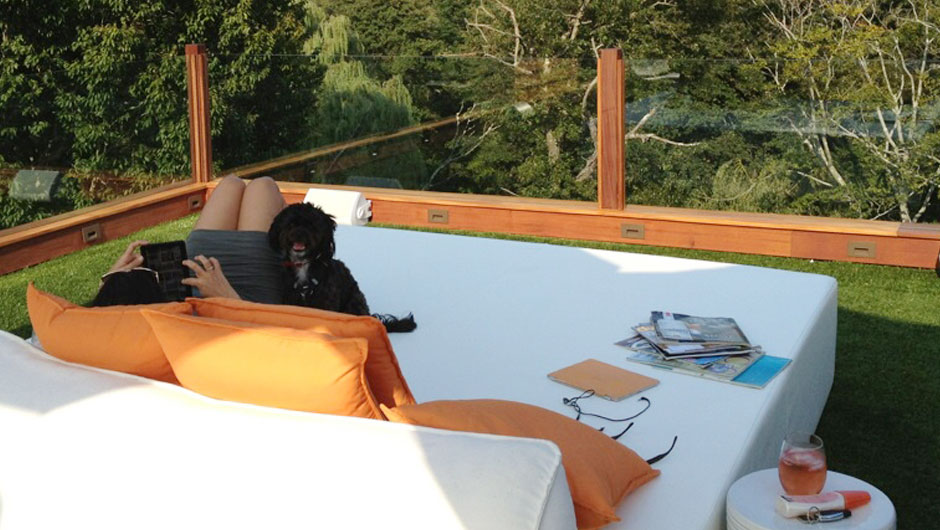 In my happy place: good book + rose + @gumbydog. 
4. "The Dinner," by Herman Koch. You know those double date dinners that seem to never end? Well this one goes on for an entire book,but during the dinner things are revealed that will make you gasp in disgust…and recognition of every horrible dinner you've ever sat through with someone you kinda hate. Bonus: it's translated from Dutch so you're actually reading a foreign novel which will allow you to seem superior in your next dinner conversation when you say "Have you read 'The Dinner?'"
"The Dinner begins with drinks and dark satire, and goes stealthily and hauntingly from there. It's chilling, nasty, smart, shocking and unputdownable. Read the novel in one big gulp, and then make plans with friends—you'll be desperate to debate this book over cocktails, appetizers, entrees, dessert…and then you still won't be done talking about it." —Gillian Flynn, author of Gone Girl.
5. "Tampa" by Alissa Nutting. This last one is one of the sickest books I've ever read, but also one of the most gripping. A hot middle school teacher seduces a 14 year old boy – yes she's a sociopath and evil and awful and also hilarious.
"It's as riveting as it is disturbing." (NewYorkmagazine.com's Vulture)