Sorel boots have been around forever. The brand originally launched back in 1962, and your parents most likely own a pair of their original Caribou boots from back in the day. Nowadays everyone from Christina Hendricks to Elizabeth Olsen rock them during fall and winter, and I totally understand why–because they're the sh*t. Specifically speaking, these Carly Conquest boots.
What they are: They're lightweight insulated boots that will keep your feet dry and warm in extreme weather conditions. So if you find yourself in an unexpected rain storm or snow storm, they've got you covered (literally). And unlike Uggs, they won't get all soggy and gross.
Why I love them: The Carly Conquest boots ($220) are the most perfect boots that your feet will ever step into, and are definitely going to be the hottest style of the season. Not only do they protect my feet from snow and rain, but they're super stylish and go with everything from jeans to leggings, and even casual dresses. They're totally appropriate to wear to work as well, so I don't have to carry extra baggage around and switch back into high heels once I step foot into the office. And don't be alarmed by the price tag. Sorel boots last forever and ever, and you don't have to worry about buying both Uggs and Hunter boots. These are like the perfect marriage between the two, and actually wearable regardless of what the weather is like. I am pretty much going to live in these until spring arrives: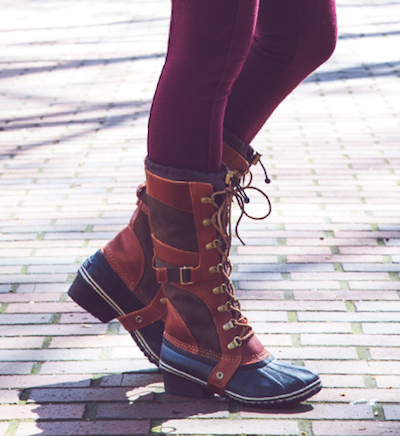 Sorel Carly Conquest Boots ($220)
Where you can get them: You can order these rad boots online at Zappos and Nordstrom (only in black right now), but it's tough deciding on which color get. The black ones will no doubt go with everything, but I ended up going with the cinnamon color as seen above. I wear a lot of black as it is and wanted to mix it up a bit. So unless you live in Hawaii, i'd definitely recommend getting yourself a pair. They do not disappoint.
Don't forget to check out: 6 things you need for winter, how to not get fat during the holidays, and Nasty Gal's 50% off sale.