Maybe I'm a sucker for the varsity jacket trend because I always had a thing for football players in high school (sorry if you're finding out this way, husband!), but this spring 2013 trend has me all riled up–like it's Friday night, and my boyfriend is starting quarterback in the big game. I love the idea of throwing one on over an otherwise sexy outfit – like a body-con dress – and going under the bleachers out to the bars.
Athletic fantasies aside, it's just an incredibly cool look. And I just spotted this AMAZING white lace version of the bomber jacket trend on style blogger Peace Love Shea (above) and became immediately obsessed (shop below if you're obsessed, too). Turns out white lace or laser cut versions of the jacket are popping up everywhere — from ASOS to JCPenney and Charlotte Russe, where you can get a $25 version. And if you're wondering about the longevity of the trend, I just spotted another white bomber in the Roxy Fall 2013 collection–so it's not going anywhere. Touchdown!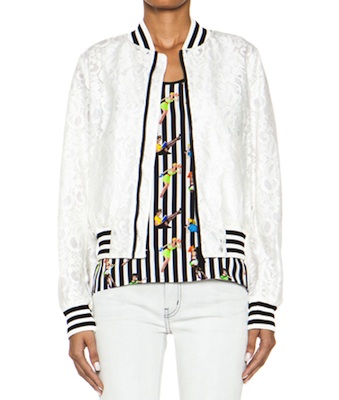 Get Peace Love Shea's exact MSGM Lace Bomber Jacket in White ($686) now.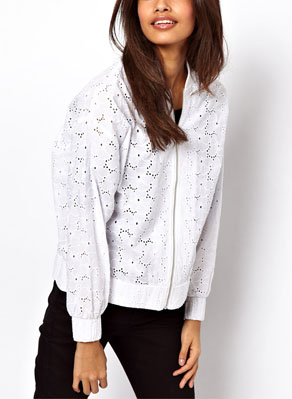 I'm also obsessed with this ASOS Bomber Jacket In Allover Broderie ($67.82) which is sort of a laser cut/eyelet version of the trend.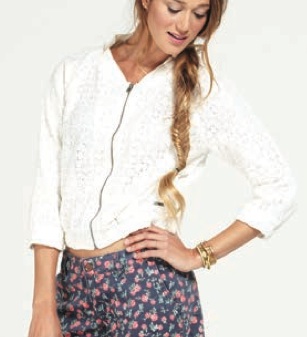 Roxy 'In It To Win It' Jacket – Fall 2013
This is a pretty guilt-free way to try the look: Charlotte Russe's Zip Front Lace Bomber Jacket ($29.99)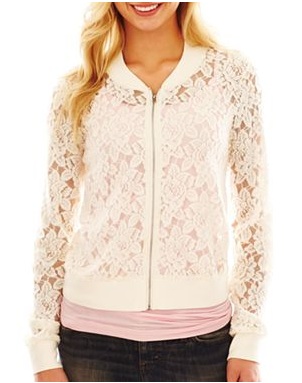 Ditto for this ridiculously priced Lace Bomber Jacket ($25) from JCPenney.