NARS, who recently wowed us last with their all-pink 'Final Cut' collection, is at it again this week with a 'NARSissist' fan collection that consists of an eye and a cheek palette. And newsflash, the line was developed with their fans in mind. Not only are they appropriately named after their fans (better know as the NARSissist girl), but also include cult-favorite shadow and cheek staples. In other words, you can simplify your cosmetics bag since these two palettes are all you really need.
The NARSissist Eyeshadow Palette ($79) features 15 of NARS' fan-favorite eyeshadow shades in one single compact, making super easy to travel with. It's loaded with matte and shimmery formulas that range from neutrals for everyday looks, to sultry shades that will create the sexiest smokey eye ever. Shades include All About Eve I, Madrague II, Fez, Bali, Coconut Grove, Madrague I, Nepal, Ashes to Ashes, Brousse II, Mekong, Bellissima I, Lhasa, Deep Pewter, Dogon II and Pandora II:
And the NARSissist Cheek Palette ($49) features the brand's most iconic cheek shades, which obviously includes best-seller Orgasm. The kit includes shades Devotee (a highlighting blush), Orgasm and Laguna (a gorgeous bronzer), as well as a mini blush brush, which are all you'll need to achieve a gorgeous spring glow: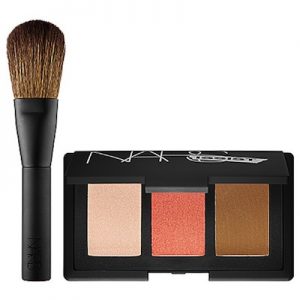 While the palettes may seem a bit pricey, they're actually both insane deals. A single shadow will set you back $29 and blushes are priced at $24, so you do the math! But we recommend getting ahold of these asap, as we hear they're selling out fast. If only more brands did this kind of thing (Chanel, MAC, are you listening?).
Don't forget to check out NARS' 'Final Cut' collection, Kelly Osbourne x MAC Cosmetics and new beauty launches to try in 2014.