Around this time of year, our favorite beauty brands start launching their holiday collections – think sparkling shadows, glitter galore, and deep red hues. But without a doubt, the label we're most eager to see roll out its seasonal goods is NARS. Just recall its epic collection with photographer Sarah Moon, which featured stunning lip color coffrets, out-of-this-world lashes, and super elegant palettes.
So it should come as no surprise that the beauty giant has once again decided to team up with yet another creative powerhouse in the world of art. This year, NARS will be releasing a Man Ray Holiday collection, which pays homage to the stunning works of 20th century artist Man Ray.
The packaging alone is a masterpiece, featuring the icon's famous black and white photography like Glass Tears and Viel Cheek. And inside, the makeup is just as impressive. You'll find everything from bright blushes and smokey shadows to neutral lipsticks and shimmering bronzers. Standouts include the Les Amoureux Audacious Lipstick Coffret, which includes four beautiful lip shades adorned with one of Man Ray's most memorable paintings, as well its sister set, the Noire et Blanche Audacious Lipstick Coffret featuring a photo of model Kiki de Montparnasse's head next to an African black mask.
And the arty options don't end there. You"ll soon be able to get your hands on the Kiss Velvet Matte Lip Pencil Set, featuring four new shades in a shiny purse-like case, in addition to five different "love triangles" which consist of a blush and a lipstick. With names like "Orgasm" and "Deep Throat and Barbara," they'll naturally bring color to your complexion even before you swipe on either of the formulas. Rounding out the collection are two eyeshadow palettes, two eyeliners, a highlighter, and one blush palette featuring both shimmer and matte shades.
When asked why he chose Man Ray as the subject of his latest collaboration, the brand's founder, Francois Nars, told Refinery29: "He inspired me in so many ways in the fact that he was so daring and ahead of his time. I was just fascinated by the way he took photographs. It came at such a fabulous time when he started taking photographs in Paris in the early '30s and there was so much creativity in Paris. So, you know, all of these things I think contributed, and also the world they lived in at the time was quite special."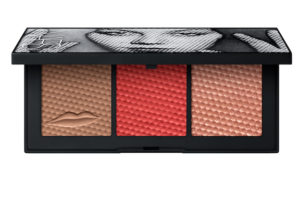 We definitely agree, and there's no doubt that this romantic inspiration shines through in the brand's latest work. In fact, we think these cosmetics are the perfect gifts to show your loved ones how much you truly care. And even if you decide to put them under the tree with a "from: me, to: me" label, we won't judge. #treatyourself
The Man Ray Holiday collection will be available online and in select stores Oct. 6 for all your holiday shopping needs.
While you eagerly await the launch, check out these amazing fenty beauty highlighter dupes and clear skin foundation hacks.