Let's face it: moms get most of the shine, while dads don't always get the love they deserve, but that changes this year! This year, Sears, is arming you with dad-approved gift ideas that are sure to show the dads in your life just how much you appreciate them.
And speaking of those real dads, we enlisted our very own awesome dads. To start us off is Ernie Rodriguez–his daughter, Shelby is the graphic designer here at SHEfinds. Ernie is the definition of a family guy who enjoys outdoor sports, such as golf and skiing. Find out what's on his Father's Day wish list below.
SHEinds: What's your fondest Father's Day memory?

Ernie Rodriguez: Receiving handmade cards or special craft gifts from my children when they were young.
SF: What do you love most about being a dad?

ER: Watching my daughters grow into young women and being proud of them.
SF: Are there any traditions that your father passed on to you that you passed on to your children?

ER: I always remember being with family and friends and cooking out.  That is something I enjoy doing with my family to this day.
SF: What's on your Father's Day wish list?

ER: I always enjoy receiving Craftsman tools or outdoor equipment. Also, clothing that is casual and easy to wear.
There are some amazing Craftsman tools available for Father's Day, plus we think this Craftsman Men's Twill Shirt from Sears is perfect for Ernie because it's exactly what he asked for–casual and easy to wear. It'll be great for one of his family picnics, and it's crazy comfortable.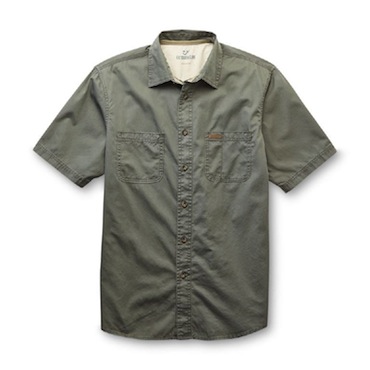 This Father's Day, Sears and Shop Your Way want you to honor your dad through their "Snap Your 'Stache" contest. They are looking for the most awesome moustache selfie now through June 15. Share your photo online at sears.com/DestinationDad for a chance to win the ultimate Father's Day gift-– a trip to Lake Arrowhead, Calif for the first-ever Craftsman MAKEcation℠. There, dad will take his making skills to the next level with master classes from hardcore blacksmiths, rugged woodworkers, cigar rolling aficionados and barbeque pit masters – and have the opportunity to hang with a celebrity. Dad doesn't have a 'stache? Get creative–use a marker, sticker or tinsel and fake one! Hey, you'll get $5 in Shop Your Way points to buy a gift for dad, or yourself.
Click here to enter the contest, vote for the best 'stache and find great deals on gifts your dad will definitely enjoy.