Throughout the year I worked as a sales associate at L'Occitane, I tried a lot of products. Although it's hard to choose one product as my favorite, I can safely say the Shea Butter Foot Cream ($28) is in my top five. Here's why I cannot live without it.
My feet tend to get really dry and I've tried a bunch of different foot creams but nothing seems to do the trick like this one. It consists of 15% shea butter, which is super nourishing, plus soothing ingredients like lavender and arnica. The lavender smell is so relaxing and if you give yourself a little foot massage it honestly feels like a mini spa treatment.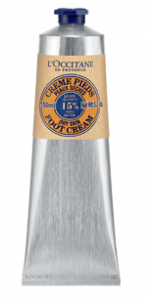 Shea Butter Foot Cream ($28)
L'Occitane's Shea Butter Foot Cream relaxes and restores tired feet while keeping them totally moisturized. Since the product is so rich only a little bit is required, so one five-ounce tube will last a while. Trust me, as someone who has worked for this company and tried their products first hand (over and over again), I can truly say this is one of the company's best.
If you aren't fully sold on, try buying a one-ounce tube to try it out before springing for the full size. Although I'm sure once you try it you will be coming back for more!
SHOP THE SHEA BUTTER COLLECTION
Don't miss 5 at-home remedies to soothe cracked heels and 8 drugstore eyeliners with amazing customer reviews!
[Photo: L'Occitane]