Designers put their best heels forward this weekend with stunning fall collections. Here is a round up of some of the most prevalent (and wearable trends).
Brights
Usually, fall calls for more somber hues, but Erin Fetherston showed off some strikingly bright pieces for fall that stood out amid a sea of gray and black. Victoria Beckham and Rachel Roy also interspersed brights into their dark palettes.
To mimic the look, try this feminine Vanessa Bruno Linen-blend dress ($204) with boots.
Cropped Pants
Forget floor-skimming trousers. This fall will be all about cropped and tapered styles that show off your figure and your sexy boots. Seen at Malandrino (shown below), as well as Diane von Furstenberg, these will likely be a style staple.
These Alice + Olivia Tie Waist Cropped Pants ($253) are draped and cut full through the hips and thighs for a comfortable fit, plus they're made of wool, so they'll be perfect for fall.
Big Fur
Loud, over-the-top coats with lots of fur were popular, from Behnaz Sarafpour to Thakoon, Malandrino, and Luca Luca.
First, don't forget that we have an entire guide to the best faux fur pieces and faux fur vests so that you don't have to harm animals while being fashionable. This Juicy Couture Belted Cardigan with Faux Fur Collar ($139) hits the look on target and can be worn this spring as a layering piece.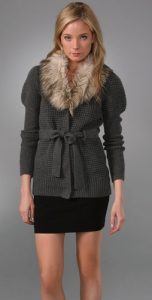 Grey Tights
Black is standard when it comes to winter hosiery, but designers' Fall 2010 lines featured more muted charcoal tights, a slimming style that is a little less harsh on the eyes. DKNY serves as an example below, but Suno, Rebecca Taylor, and Lela Rose also used this trend.

You can get the same look with these Chevron Opaque Sculpting Tights ($33) that help you get a better waist line, but that also feature a cool pattern–very chic.
For more of fall's best trends, see our guide to the first days of Fashion Week, plus our guide to winter fashion.