A new law intended to protect children by testing for lead in products made for kids is in fact threatening eco-friendly labels that already produced chemical- and pesticide-free clothing for tots. The regulation sound good in theory, but in reality testing for lead costs a mint–upwards of $15,000 depending on how big the clothing line is–and many fledgling green designers fear that the Consumer Product Safety Act will put them out of business when it goes into effect in February. MomFinds supports companies that produced safe products for babies before the government required them to, and we think you probably do, too. Hit up these small and socially-responsible business while you still can!
Can You Dig It? Organic Apparel makes 100% organic clothing for babies and toddlers, including adorable onesies like this "organically grown" number ($24), which comes in sizes that fit kids up to 24 months.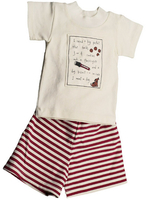 Tiny two-pieces like this camping tee and red-striped shorts ($39) are emblamatic of the Garden Kids look, which started when a handy-crafty mother began sewing nature-inspired designs onto her kids' (all-organic cotton) birthday party outfits.
Massachusetts-based Toby + Rei designs a full clothing line for kids, all hand-dyed and made of sustainable fabrics like bamboo, including pants ($24), hats for infants ($9), and grafic tees ($24-$28).