News: Choo's Coming To H&M, Calvin Klein Wants To Keep It Dirty, And More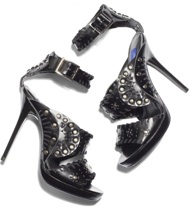 1.
Jimmy Choo is partnering with H&M for a one-off collection. Those are some shoes I can't wait to get my hands on, but I'll make do with 
these
until the collection debuts in November. [
WWD
]
2.
Calvin Klein execs are standing by their racy billboards around Manhattan, even if some of the public thinks they're too explicit.  In case your own Calvin Klein Jeans days ended in the nineties, see our handy 
denim guide
for a few new options. [
NYmag
]
3. Abercrombie & Fitch is closing its Ruehl stores, claiming the brand was pulling down earnings. Not to worry- they haven't pulled the plug on e-commerce just yet. [WSJ]
4. Retailer Eddie Bauer has filed for bankruptcy. If that leaves you stranded for a bucket hat to take camping this summer, you can always update your look.  [NYT]