I'm not the only one who's ready to kick off the new year with a makeover. After trimming some administrative fat, the
Gap

is ringing in 2006 by test-driving a new look that exudes a warmer, more amiable feel, says Amy Merrick of The Wall Street Journal.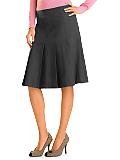 Execs are hoping that, instead of getting comfy at Starbucks, consumers will choose to fall into the Gap: the retail giant that in the '90s had "everyone in cords" is set to be revamped. Dark wood fixtures and soft spotlighting replacing the Gap's familiar light-wood floors and bright laminate displays. Gap employees will fill out signs by hand, and customers will have their names scrawled on chalkboards affixed to fitting room doors. "Giant, colorful graphics," influenced by London department store Marks & Spencer, will replace the Gap's ubiquitous black and white ad photography and will be updated quarterly. The makeover prototype store at Cherry Creek Shopping Center in Denver even boasts a brown leather sofa where shoppers can curl up with a magazine or local newspaper if they get temporarily overwhelmed by the fashion.

Like anyone who can't get enough of her new makeover, the Gap is eager to show off its new look. The company will overhaul top-selling stores first, giving the green light to makeover all 1,400 U.S. locations over the next several years. But Gap big wigs have failed to mention if the facelift includes the fashion. It's more than the color of the floors that contributes to declining retail sales.
Sale Alert:
Gap.com's End of Season Sale has selected items up to 60% off- it's a good time to stock up on wardrobe basics. Get free shipping on orders over $100 with code 'FREE100' when you enter it at the checkout.