Vogue's August cover star is Australian actress Nicole Kidman. The 48-year-old wore a Marc Jacobs dress for her cover shot, which was photographed by Patrick Demarchelier. She had pretty, natural makeup and soft waves. Once Vogue released the cover, commenters on social media took that as an open invitation (as per usual) to rip her cover apart.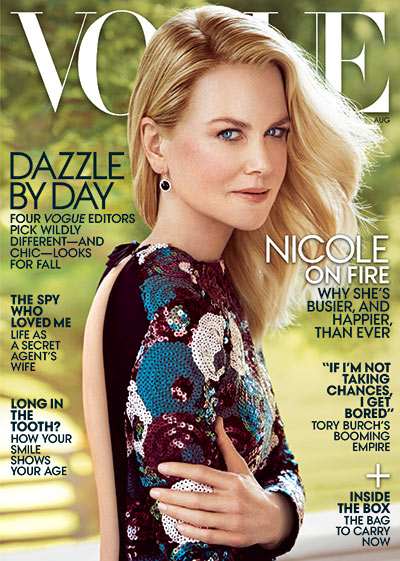 One user wrote, "I love Nicole Kidman but this looks nothing like her. Who approved this cover?!" and another said "doesn't look like Nicole, and not in a good way." Marc Jacobs posted a picture of the cover to his Instagram page and again people went off in the comments. However, Jacobs didn't let Internet trolls get away with their negative comments. He simply responded, "All you haters… When were you last given a cover of Vogue? Damn people have a lot of negative energy..!!"
As for Kidman, she revealed to Vogue she wishes she would have met husband Keith Urban earlier in life. She said, "I wish I could have met him much earlier and had way more children with him. But I didn't. I mean, if I could have had two more children with him, that would have been just glorious. But as Keith says, 'The wanting mind, Nicole. Shut it down.'"
Here's the full interview with Vogue and don't forget to pick up the issue on newsstands July 21.
Don't miss Kim Kardashian's #NoMakeup cover shot for Vogue Spain and Blake Shelton and Miranda Lambert are getting divored after 4 years of marriage!
[Photos: VOGUE/Patrick Demarchelier]