If you've ever had your favorite cosmetics confiscated at airport security, you know how tragic it is (and may have even shed a tear in public) as you left it behind. Since the phrase "under 3 oz." is now a part of our vocabulary, we've vowed never to lose a Rosebud lip balm or Lancome mascara ever again (true stories). Here is a TSA-proof guide to packing:
Since hotel conditioners offer little to no moisture (aka they suck), I always need to bring my own. This Condition Serious Volume Mini, 2.1 fl oz. ($8) is amazing and works double time; the product makes hair super soft, without compromising on volume.
We love that this SPF 30+ Everyday UV Slim Travel Tube ($12) is for both face and hands – and how slim the packaging is. More room for shoes.
You don't need to go perfume-less on vacation again: rollerballs are the secret of every chic traveler. You will love the sexy, floral smell of Viktor & Rolf Flowerbomb Rollerball 0.33 oz ($22), without worrying about catastrophic spillage in your luggage.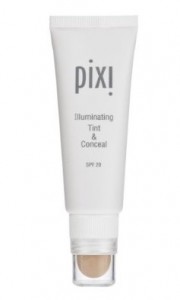 How's this for multi-tasking in a mini-bottle? Pixi Illuminating Tint & Conceal ($30) moisturizes, conceals, illuminates and has SPF 20 protection. That's at least 3 bottles of facial product you don't have to pack.
Mix and match the 2 oz. bottles in this great Philosophy The Travel Agent ($35). Our favorite product from the kit is the Amazing Grace Shampoo, Bath, and Shower Gel – a great-smelling, three-in-one that you will love.
Throw your quality products in a quality case like this kate spade new york Big Apple Travel Cosmetic Case ($50). The pink-lined bag is light years beyond Ziploc.
If you need help packing the rest of your bag, check out our guides to inexpensive shoes, overnight bags, sample sale, shapewear reviews.