Most of us feel like once we've reached a certain age, we're past the point of no return when it comes to bikinis. It's true – teeny weenie string bikinis do have their age limit (that's directed at you, Ramona Singer), but just because you've graduated from a two piece, doesn't mean you have to be in fast lane to granny style one pieces. Feast your eyes on these surprisingly sexy and super flattering tankini tops by Tommy Bahama and Tommy Hilfiger.
The plunge neckline and flattering cut of this Tommy Bahama Pearl Shirred Halter tankini top ($99) make it a perfect swimsuit for any age or body type.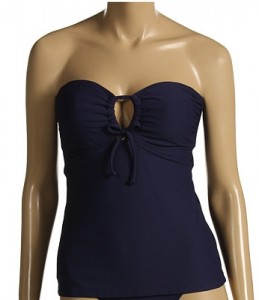 You will love the cut-out and drawstring of this on-sale Tommy Hilfiger Above Board one piece w/ Tummy Control ($89.10, down from $99). Plus the tummy control goes a long way.
This Tommy Bahama Snakeskin Halter tankini top ($97) does wonders for busts large or small, and the halter straps provide extra support so you'll "stay in place," so to speak.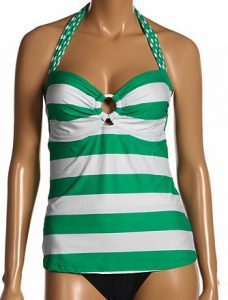 You'll love the oversize striped and keyhole detail of this Tommy Hilfiger Bermuda Stripe one piece w/ Tummy Control ($105). It's equal parts preppy and flattering.
Shop our guides to the best celebrity jewelry, and the best cheap jewelry. Sign up for the SheFinds newsletter for even more fashion updates.