Lady Gaga is known for many things, but wearing clothes, shoes and jewelry that the rest of us actually have any desire to be seen in is not one of them. But perhaps that's all changing! The pop star was recently spotted wearing the DANNIJO Stanton Cuff ($270) and we're pretty much astounded by how tame and well, beautiful, it is. Even better, it's not astronomically expensive! Granted, $200+ is not exactly what we'd call cheap, but this is Gaga we're talking about.
Looking to spice up an ordinary black holiday party dress or just wanted to freshen up your arm party? Make it happen below.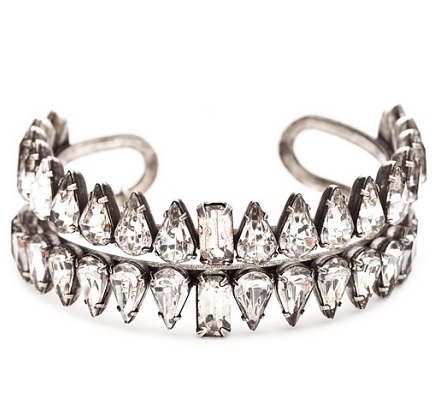 DANNIJO Stanton Cuff ($270)
Don't miss Reese Witherspoon's jeans, Candice Swanepoel's dress and Kerry Washington's Vince Camuto dress.
[Photo: Splash News]