Time is ticking; your Father's Day shopping window is getting smaller and smaller, but don't panic! Sears, Shop Your Way and real SHEfinds dads are here to help you out.
Today, we're getting Father's Day gift inspiration from Cesar Abiog,  a nurse at New York Presbyterian Hospital and dad to Karen, the marketing manager here at SHEfinds. Cesar describes his style as laid-back and comfortable and he enjoys playing the guitar, recording music in his home studio, playing chess and staying active. Here's what he's looking forward to this Father's Day.
SHEfinds: What's your fondest Father's Day memory?

Cesar Abiog: My first Father's Day, we went swimming at a family friend's pool and had a BBQ. It was the first time my daughter went swimming in a pool.
SF: What are looking forward to this Father's Day?

CA: Recording two songs. One about my family and one for my daughter. She's at that age where all her friends are getting married and starting families. I'm excited for her to start that new chapter in her life and I'm proud of the person she has become.
SF: Are there any traditions that your father passed on to you that you passed on to your children?

CA: Always spend at least an hour with your children every day. My father and I would listen to music together. When my daughter was still a kid, I would play the guitar before she went to bed.
SF: Anything special on your Father's Day wish list?

CA: I need a new watch. I am always running late since I have such a busy schedule. I'd like something that shows the date and is sturdy. I'm constantly changing watches, so something with a warranty would be perfect.
We love a dad who knows what he wants. It makes selecting a sure-to-please gift that much easier. For a watch-loving dad like Cesar, we recommend the Citizen Men's Quartz Stainless Steel Watch. It's stainless steel and comes with a 3-year warranty.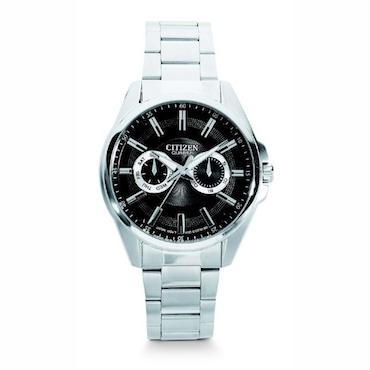 Citizen Men's Quartz Stainless Steel Watch With Day Date
PS: Don't forget to enter your dad into Sears and Shop Your Way's "Snap Your 'Stache" search for the greatest mustache selfie. Pops doesn't sport a 'stache? Get creative and make one up. You'll have the chance to win a trip to the Craftsman MAKEcation℠ for your dad, and you get $5 in Shop Your Way points just for submitting a picture.
Visit sears.com/DestinationDad.com to submit a picture or vote before the contest ends on June 15, 2014.