October brides – your wedding is nigh! The crisp fall weather is here (so shop chic cover-ups and shrugs), the leaves are changes and Halloween is just around the corner. Whether you're planning for an Oktoberfest feast, or an autumn-themed affair, you'll need warm fall colors, yummy treats (can you say, spike apple cider?), and favors that embrace the season.
Things To Do With 30-Days Left:
Programs, Rehearsal Dress, Bridesmaid Gifts, Makeup & Hair Trials, Escort Cards, Table Seating, Welcome Bags, Guest Favors, Write Toasts, Write Vows, Order Wedding Bands, Honeymoon Plans, Practice First Dance.
Fall Favors: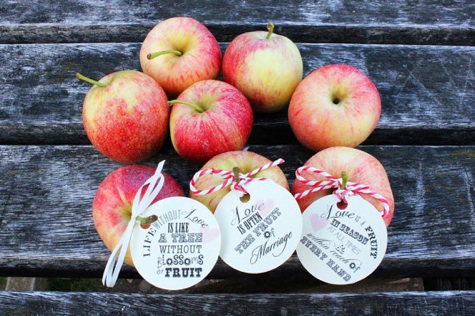 LOVE Favor Tags (above, $8.50), pashmina wraps, candied apples, maple syrup, honey jars, leaf-shaped soaps, maple candy, tissue wrapped pears, burlap apple bags, pumpkin jam, sunflower seed packets.
In Bloom This Month: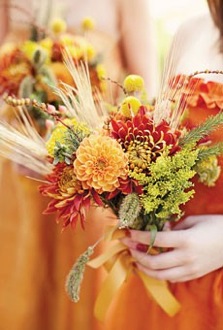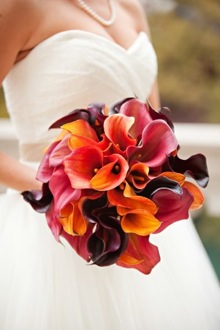 Our resident green thumb, Lauren Page of G Page, shared her favorite October flowers with us: Calla lilies, Dahlias, Celosia, Hydrangea, Gloriosa, and Cymbidium orchids.
Sales Happening Now:
30% off reception dresses like this replica of Kate Middleton's (above), 70% off diamond jewelry at Zales, 30% off bridesmaid dresses at J.Crew, 50% off Judith Jack earrings, and 30% off Kate Middleton-inspired jewelry.
Fall Recipes & Signature Cocktails:
Pear-Sausage Pie Menu, Spiked Apple Cider, Caramel Apple Wedding Cake, Apple Brandy & Cider, White Bean and Sausage Stew In Pumpkins Bowls,
Oktoberfest Menu:
Soft Pretzels
German Sausages with Apples, Sauerkraut, and Onion
Boiled Potatoes with Parsley and Dill
Roasted Plums and Rum Raisins
Halloween-Themed Decor:
White pumpkins, skull plates, black chandeliers, witch pillows, glitter pumpkins, candleabras, 'Pick Your Poison' plates, cauldron air plants, poison cufflinks. Shop all of these and more in our Halloween wedding guide!
Shop our guides to the best lavender bridesmaid dresses, outdoor wedding dresses, and simple bridesmaid dresses.