October 1: Fusion Beauty launches InFatuation lip gloss, and $1 from every sale will be donated to the Seven Bar Foundation to help end women's poverty.
October 2: La Mer launches the Hydrating Facial, so you can mask up at home in the most luxurious way possible.
October 4: Get the latest FEED/Read 3 bag from Barnes & Noble today and help Nepal's Room to Read program.
October 9: Couples Retreat, with Kristin Davis and Kristen Bell, opens today.
October 10: New arrivals from Stella McCartney for Adidas hit stores today.
October 11: Carlos Falchi for Target debuts today.
October 13: Jenny Gaynor Glass will sell their Hamsa necklace in pink to raise awareness for Breast Cancer Awareness month.
October 14: Six Scents launches their second round of fragrance, which are created in collaboration with various designers, including Phillip Lim and Henry Holland.  The fragrances' proceeds help support Pro-Natura sustainability programs.
October 15: Isabelle Grace Jewelry launches an inspirational collection today, proceeds of which will partly be donated to women's charities.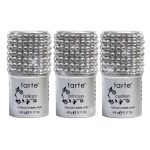 Also today, Tarte Cosmetics releases their holiday 2009 collection, which includes a trio of their best cheek stains, so get prepped to get rosy this fall.
October 19: Get glossy with BeingTRUE's new holiday gift lip set.
October 23: Amelia, the biopic on Amelia Earhart starring Hilary Swank, is released today.
October 28: Get out your (single) glove. This Is It, the Michael Jackson film, hits theaters for two weeks.
October 31: Happy Halloween, everybody.  Find a costume at the last minute if advance planning isn't your thing.